The Latest: Turkey suggests opening embassy to Palestine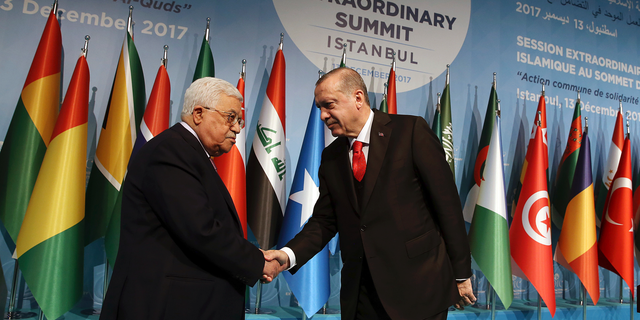 JERUSALEM – The Latest on the Israeli-Palestinian conflict and the fallout from the U.S. recognition of Jerusalem as the capital of Israel (all times local):
2 p.m.
Turkey's top diplomat says it plans to open an embassy in east Jerusalem once the world recognizes an independent Palestinian state.
Foreign Minister Mevlut Cavusoglu said Thursday there was "serious determination" among countries that have not yet recognized Palestine to do so. "We need to succeed in this."
He says: "Once we succeed, embassies will open in the independent Palestinian state's capital, east Jerusalem."
Turkey has been one of the most vocal critics of President Donald Trump's declaration last week that Jerusalem is the capital of Israel. Turkey hosted a meeting of 57 Muslim nations on Wednesday that rejected the decision and called for recognition of a Palestinian state with its capital in east Jerusalem.
Israel considers the entire city to be its unified and eternal capital. It would be unlikely to allow any country to establish an embassy to Palestine there.
___
8:15 a.m.
The Israeli military says it has carried out a series of airstrikes on Hamas facilities in the Gaza Strip in response to new rocket attacks.
The military said Thursday that the overnight strikes hit facilities used as training and weapons storage facilities.
Gaza militants have fired rockets into Israel daily following President Donald Trump's recognition of Jerusalem as Israel's capital last week. Two Gazans have been killed in clashes with Israeli troops along the border and two others were killed in airstrikes.
Israel says it holds Hamas, the militant group that controls Gaza, responsible for all fire originating in the territory. The two sides have fought three wars since Hamas seized control of Gaza in 2007.