Terror mastermind freed in Pakistan despite $10M bounty, may run for office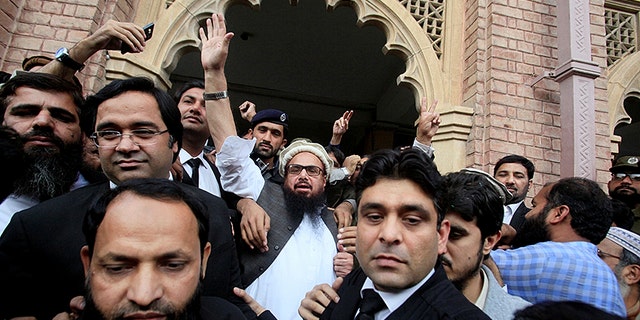 A Pakistani court on Wednesday ordered the release of a notorious Islamist leader accused of masterminding the 2008 terror attacks in Mumbai, in which 166 people were killed, clearing the way for his return to politics.
The move ended the brief detention of Hafiz Saeed, who was only put under house arrest in January after years of living freely in Pakistan. The 67-year-old cleric still has a $10 million bounty on his head and is designated a terrorist by the United Nations, yet remains head of the terrorist group Jamaat-ud-Dawa (JuD).
The U.S. reacted swiftly, condemning the decision.
"There is no restriction at all on Hafiz Saeed now."
"The United States is deeply concerned that ... Hafiz Saeed has been released from house arrest in Pakistan. LeT is a designated Foreign Terrorist Organisation responsible for the death of hundreds of innocent civilians in terrorist attacks, including a number of American citizens," state department spokesperson Heather Nauert said.
Lahore High Court's judicial review body on Wednesday rejected a Punjab government request to renew Saeed's detention for a further 90 days, his spokesman Nadeem Awan told Fox News.
President Trump has taken a more aggressive stance regarding Pakistan, pushing for a crackdown on militants plotting attacks on Afghanistan and India.
"We can no longer be silent about Pakistan's safe havens for terrorist organizations," Trump said when rolling out his policy for south Asia in August, declaring that Pakistan would have "much to lose" if it did not comply.
However, Trump's stern rhetoric was described by Pakistan security officials as shifting of the blame for failures in the war against the Taliban and other militant groups fighting in war-torn Afghanistan and lack of acknowledgement for Pakistan's sacrifices.
"When the government failed to present any concrete evidence to justify Hafiz Saeed's continued house arrest, the court dismissed the government's request and ordered his release after ending of his current duration of house arrest," Awan told Fox News.
Saeed, who is seen as a possible candidate for public office, thanked the judges of Lahore high court in a video statement.
"The lawyers of the court supported me tremendously and I am so thankful to God for that," he said. "This is a great step for freedom for Pakistan."
Members of JuD say it is purely a charity organization, but the U.S. views it is a front group for Lashkar-e-Taiba (LeT), an anti-India militant jihadi group that Saeed helped found in the 1990s to fight with Indian military inside Indian-occupied Kashmir and to launch attacks on India.
Delhi has pressed for Saeed's to be handed over to face trial for the Mumbai terror attacks, in which LeT gunmen attacked luxury hotels, a Jewish center and a railway station in India's biggest city and brought the nuclear-armed neighbors India and Pakistan to the brink of war.
Saeed's lawyer, A.K Dogar, said the wanted man is now free, at least within Pakistan.
"There is no restriction at all on Hafiz Saeed now. The three members [Judges] review board on maintenance of public order examined the detention and government had not provided any tangible evidence to putting Saeed under further house arrest".
Four of Saeed's JuD colleagues Abdullah Ubaid, Abdur Rehman Abid Zafar Iqbal and Qazi Kashif Niaz were released last month, when a similar review board determined the government's evidence for their continued detention to be insufficient.
Saeed's release paves the way for him to play a leading role in Pakistan's general election in 2018. During his period of house arrest, he has overseen the launch of a new political party, the Milli Muslim League (MML) in August, which is set to contest several seats in the coming polls.
It is still unclear that if he will run for office himself,but his previous profile ensures he will be a prominent figure in the campaign.
Haroon Janjua is an award-winning Pakistan-based journalist who has reported on a wide range of political, military and economic developments.