Tens of thousands of workers rally for better conditions on May Day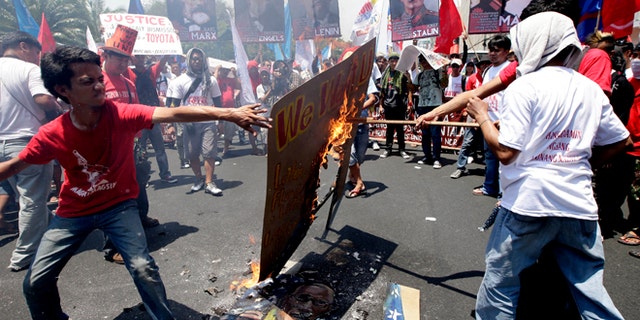 JAKARTA, Indonesia – Tens of thousands of low-paid workers took to the streets on May Day to demand higher wages, better benefits and improved working conditions a week after a building collapse in Bangladesh became a grim reminder of the dangers of lax safety regulations in poor countries.
Laborers in Indonesia, Cambodia, the Philippines and elsewhere marched and chanted en masse Wednesday, sounding complaints about being squeezed by big business amid the surging cost of living. Asia is the manufacturing ground for many of the world's largest multinational companies.
Thousands of garment factory workers in Bangladesh also paraded through the streets calling for work safeguards and for the owner of the collapsed building to be sentenced to death.
In Indonesia, the world's fourth-most populous country, tens of thousands of workers rallied for higher pay and an end to the practice of outsourcing jobs to contract workers, among other demands. Some also carried banners reading: "Sentence corruptors to death and seize their properties" and protested against a proposed plan for the government to slash fuel subsidies that have kept the country's pump prices among the cheapest in the region.
"It seems that the government is so stupid," said a protester who identified himself only as Sarwan. "They don't know, every time they talk fuel price increase, it will bring up the prices of other goods."
A day earlier, President Susilo Bambang Yudhoyono said the country must reduce fuel subsidies that are a major drain on the budget. In 2011, the subsidy bill ran close to $20 billion, the same amount targeted for spending on infrastructure this year. The government is now trying to help offset the fuel increase among the poor who would be most affected by it.
In the Philippines, an estimated 8,000 workers marched in Manila to also demand better pay and regular jobs instead of contractual work.
"Wage increase, increase!" members of a coalition of workers' groups chanted while holding streamers that also called for lower food and utility prices. "Trash contractualization."
Some workers rallied outside the U.S. Embassy, torching a wooden painting stamped with the words "low wages" and "union busting" that depicted Philippine President Benigno Aquino III as a lackey of President Barack Obama.
Aquino on Tuesday rejected proposals that included salary increases and the exemption of workers' bonuses from taxes. Instead, he announced plans to equalize government and private sector workers' benefits, but also add a slight increase in contributions.
Workers' Party chairman Renato Magtubo assailed Aquino for offering "scraps meant for slaves."
Several thousand people in Hong Kong protested, including dockworkers who have been on strike for a month. They want better working conditions and a pay raise to make up for cuts in previous years.
And an estimated 3,000 people demonstrated in Singapore, where any form of public protest is rare, to rally against the ruling People's Action Party along with rising income inequalities, high ministerial salaries and competition from foreign workers.
Violent clashes erupted in Turkey when May Day demonstrators tried to break through police barriers to reach Istanbul's main hub, Taksim Square. Authorities reported 20 arrests and a few injuries. The square is a symbolic rally point for workers in Turkey, but police blocked it this year because of construction work.
More than 10,000 Taiwanese protested a government plan to cut pension payouts to solve worsening fiscal problems, saying it reflects a longstanding government policy to bolster economic growth at the expense of workers' benefits and compromised workplace safety.
Analysts say the poor income level has forced many young Taiwanese to share housing with their parents and delay marriages.
In Cambodia, more than 5,000 garment workers marched in Phnom Penh, demanding better working conditions and a salary increase from $80 to $150 a month. About a half million people work in the country's $4.6 billion garment industry that makes brand name clothes for many U.S. and European retailers.
The garment industry globally has come under fire since an illegally built eight-story building collapsed last week in Bangladesh, bringing down five garment factories inside it and killing more than 400 people. The collapse followed a garment factory fire there in November when 112 people died.
A loud procession of workers wound through central Dhaka, waving the national flag and chanting "direct action!" and "death penalty!" while one participant vowed the workers' deaths would not be in vain.
"My brother has died. My sister has died. Their blood will not be valueless."