Teachers in Mexico, still angry over 43 students, amp up reform protests on eve of election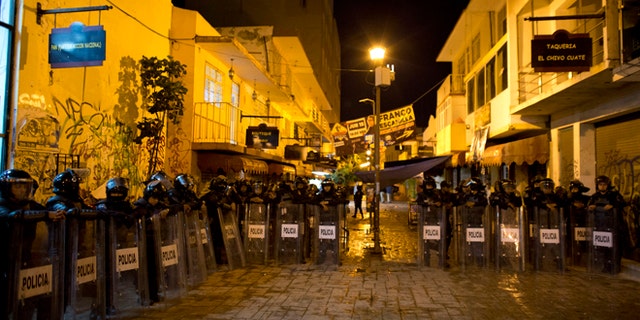 Dissident teachers in several southern states have cancelled classes, blocked highways, stormed electoral officials' offices and burned thousands of ballots in hardball protests against an education overhaul they want overturned. The protests are an attempt to cause chaos as Mexico prepares to hold midterm elections on Sunday.
The protests, carried out by the National Coordinator of Education Workers (CNTE,) intensified earlier this week, in spite of an announcement from the Public Education Secretariat (SEP) that it would suspend teacher examinations – a key component of an education reform approved in 2013 in an attempt to improve an underachieving school system.
Teacher unions have driven a lot of the protests that have had the southern states of Guerrero and Oaxaca in turmoil over the last year. They came to national and international attention after last September, when 43 student demonstrators from the teacher-training college in Ayotzinapa disappeared and are presumed killed by a local organized crime group on the orders of corrupt municipal officials.
The exam suspension – announced quietly in a press release – brought quick condemnation from civil society groups, who accused federal officials of being blackmailed by teachers and placing short-term political considerations ahead of the needs of future generations.
"It's obviously politically motivated," says Manuel Molano, deputy director of the Mexican Institute for Competitiveness think tank. "This is the most important reform for the long-term in Mexico."
President Enrique Peña Nieto burnished his international image by betting on reforms, including one to the school system in a country where children perform poorly on international standardized exams.
But his image has been hit hard by allegations of conflict of interest and a seemingly never-ending string of corruption scandals.
Teacher protests, meanwhile, are threatening to make areas such as Oaxaca and Guerrero virtually ungovernable as international attention focuses on Mexico for its midterm elections, which will renew the lower house of Congress and select the governors of nine states.
Analysts in the Mexican media see peril in the president backing down on education reform and ceding space to teachers used to having their own way – and using disruptive protests to get it.
"The education reform was something more than just his first initiative and his first achievement: it was the proof of his credibility," columnist Jesús Silva-Herzog Márquez wrote in the newspaper Reforma. "If this government was born with the education reform, it also died with it."
The SEP issued a statement saying the use of examinations as a qualification for entering the teaching profession, promotions and keeping jobs would be "indefinitely suspended," but offered no specific information on the motives of the decision.
Education advocacy and business groups blasted the cancellation as baseless and possibly illegal – and accused the government of giving in to teachers.
"National education returns to being a hostage due to political calculus and the ineptness of the authorities to assure public order and the implementation of the law," education advocacy group Mexicanos Primero said in a statement. "There is no technical reason for the suspension, and it is revealed as a dangerous and illegal ceding of sovereignty to (CNTE) blackmail."
The education proposal that is being protested against includes such reforms as teachers no longer being able to sell or bequeath their jobs on retirement. It also undertook a teacher census – no one knew how many educators actually worked in the country – centralized the payroll and was supposed to end the practice of people drawing a teaching paycheck while only working on teacher's union matters.
It also proposed evaluations for hiring and promotions to be carried out by an autonomous agency. The evaluations proved contentious for teachers, many of whom considered it a trick to fire them through tests that had nothing to do with their areas of expertise as teachers.
"It's like getting tested on Chinese, when you don't speak a word of Chinese," said José Ángel Barón, spokesman for the Coordinator of Education Workers of Guerrero State (CETEG), a dissident union group, which has threatened to prevent elections in the state. CETEG has staged persistent protested over the exams and the abduction and likely murder last fall of 43 students from the Ayotzinapa teacher training college.
"With evaluations, union bureaucracy loses control of the hiring," Ilán Semo, a political historian at the Iberoamerican University in Mexico City, explained to Fox News Latino.
Teachers placing a priority on politics and elections instead of the classroom is nothing new in Mexico.
The national teachers' union – the National Education Workers' Union (SNTE), which the CNTE and CETEG broke away from and often clash with – has a history of supplying foot soldiers for elections dating back the Mexican Revolution, marshaling voters in remote corners of the country, where educators often wield strong influence in local affairs.
"It's been a very politicized union since the 1930s," Semo said.
SNTE used to support the PRI exclusively but started backing other parties with the advent of competitive elections in the 1990s. Then-SNTE President Elba Esther Gordillo claimed that she swung the close 2006 presidential election in favor of Felipe Calderón and his National Action Party (PAN).
Gordillo, notorious for carrying Gucci bags and other outward signs of a luxe lifestyle, was imprisoned on corruption charges after Peña Nieto took office in late 2012 – a popular move in Mexico, though questioned at the time as politically-motivated.
Peña Nieto pushed a multi-party agreement known as the Pacto por México that outlined an agenda of reforms in areas such as energy, taxation and education. The education reform was approved first – and won the support of the new SNTE leadership, which has kept criticisms of the Peña Nieto government by its principals in check.
The CNTE and CTEG staged mass protests throughout 2013, maintaining a protest camp in the center of Mexico City, and, according to Semo, started siphoning off teachers and schools allied to the SNTE.
The situation has led to suspicions that cancelling the exams was as much about the satisfying SNTE teachers on the eve of elections as caving into the teachers taking to the streets in southern Mexico.
"What they're revealing is that are still after more than 2 million votes from teachers," Molano says of Peña Nieto's government. "They're trapped in the political cycle, (and) it kills their credibility around the other reforms."