Taiwan probes alleged bullying over corporal's death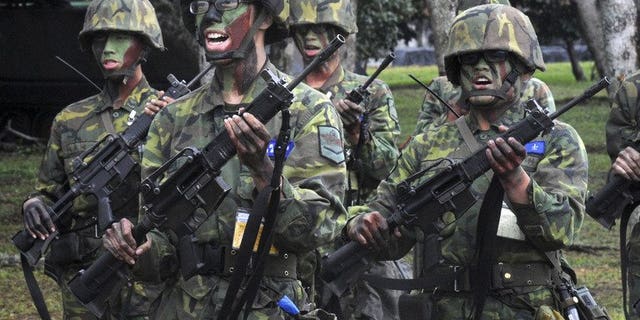 TAIPEI (AFP) – Taiwan's defence minister has apologised for the death of a corporal from heatstroke as the island's top government watchdog launches an investigation into bullying in the military, officials said on Tuesday.
Kao Hua-chu bowed and guaranteed that similar incidents would not happen again, while offering his condolences to the family of Hung Chung-chiu during a press conference late Monday night.
Hung, 24, was found by a post-mortem examination to have died of heatstroke, which his family believe was brought on by excessive exercise forced upon him as punishment for taking a smartphone onto the army base, local media reported.
On Tuesday an army colonel was detained by authorities on charges of abuse of power, while punitive measures were levied on 26 other staff members.
"I personally will take political responsibility as my apologies to the Hung family and the general public," Kao said, according to local media.
He had earlier offered to resign from his post over the affair but was asked to stay on by President Ma Ying-jeou, Ma's spokesperson Li Jia-fei said on Tuesday.
Hung's family had previously described his death a fortnight ago, following a stint in solitary confinement, as a form of "torture", according to Chinese-language newspapers.
He died just three days before he was due to be discharged following completion of his compulsory year-long military service. The torture allegation was denied by the military.
Steps taken to punish those involved have failed to assuage public outrage, with more than 5,000 people having endorsed a plan by a human rights group for a protest march through Taipei's streets on Saturday.
The Control Yuan, the island's watchdog responsible for monitoring other parts of government, has announced an in-depth probe into alleged bullying in the military, which Ma said was not tolerable.