Syria's cross-border salvos send a message to Turkey, West to keep away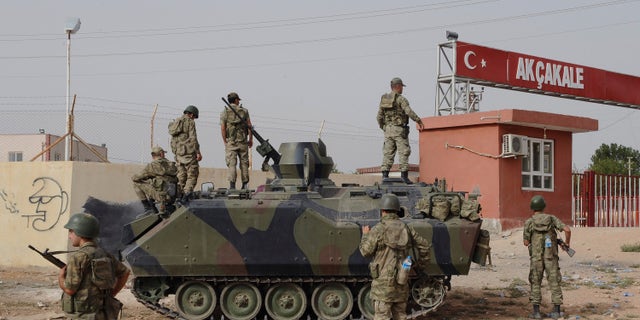 NEWYou can now listen to Fox News articles!
BEIRUT – Syria's cross-border attacks on Turkey in the past week look increasingly like they could be an intentional escalation meant to send a clear message to Ankara and beyond, that the crisis is simply too explosive to risk foreign military intervention.
With Turkey eager to defuse the crisis, the spillover of fighting is giving new life to a longshot political solution, with the Turks floating the idea of making President Bashar Assad's longtime vice president, Farouk al-Sharaa, interim leader if the president steps aside.
A military option — which would involve foreign powers that already have expressed a deep reluctance to getting involved in the crisis — is still not on the table, analysts say, despite six consecutive days of Turkish retaliation against bombardment from inside Syria.
"Syria is aware that Turkey cannot go a step further," said Ali Tekin, assistant professor of International Relations at Ankara's Bilkent University. "The Turkish people don't want a war and there are no vital national interests at stake to warrant a war. Syria sees this."
The Syrian conflict has taken a prominent role in the U.S. presidential election at a time when the U.S. and its allies have shown little appetite for getting involved.
On Monday, Republican candidate Mitt Romney said the U.S. should work with other countries to arm the Syrian rebels, allowing the rebels to drive Assad from power themselves. Romney did not call for the U.S. to directly arm the Syrian rebels.
The most recent flare-up between Syria and Turkey started Wednesday, when a shell fired from Syria slammed into a house in the Turkish border village of Akcakale, killing two women and three children. That set off the most serious and prolonged eruption of violence along the frontier since the uprising began nearly 19 months ago.
Although it was not clear whether Wednesday's shelling was intentional, Turkey responded swiftly by firing back and convening parliament for a vote that authorized further cross-border military operations if necessary.
Turkish Prime Minister Recep Tayyip Erdogan cautioned Damascus not to test Turkey's "limits and determination." But the Syrian shelling has continued every day — leading many observers to conclude the acts are intentional provocation.
"It's not an accident. You can't send shells across the border by mistake five days in a row," said Mustafa Alani, a Middle East analyst of the Geneva-based Gulf Research Center, just hours before Syrian shelling struck Turkey for a sixth day.
There have been no other reports of casualties from the shelling since Wednesday's deaths.
An activist group said Monday the number of people killed in the conflict crossed the threshold of 32,000 over the weekend, and the pace is accelerating.
The Britain-based Syrian Observatory for Human Rights said it counted 32,079 dead as of Sunday — among them 22,980 civilians and civilians-turned fighters, 7,884 members of the Syrian military and 1,215 army defectors fighting alongside the rebels.
In the past week alone, more than 1,200 people were killed, according to the head of the Observatory, Rami Abdul-Rahman, who said he only counts named victims or those whose death is verified by other means, such as amateur video.
According to Alani, escalating the crisis serves as a reminder to NATO, Turkey and the West that Syria's civil war can inflame the region with lightning speed. The threat of a spillover is likely to pressure Western powers into drafting a political solution, part of which could involve Assad's exit from power, rather than his being toppled by force.
A political solution, Alani said, could prevent Assad "ending up like Gadhafi."
Libyan leader Moammar Gadhafi was captured and killed by rebels on the outskirts of his hometown of Sirte last year, and his corpse was put on public display in a refrigerated locker for several days.
While Ankara maintains that the shells are coming from the regular Syrian army, Paul Salem of the Carnegie Middle East Center, a Beirut-based think tank, did not exclude the possibility of "other sources, a rebel unit, firing across the border, trying to create conditions for Turkey to intervene in Syria."
As the border skirmishes intensified over the weekend and the world began to consider whether Turkey would respond more forcefully, Turkish Foreign Minister Ahmet Davutoglu tried to redirect attention away from the military developments.
On Saturday, Davutoglu said Syrian Vice President Farouk al-Sharaa was a figure "whose hands are not contaminated in blood" and therefore was a possible figure to head a transitional administration.
Abdulbaset Sieda, the head of the Syrian National Council, the main opposition group in exile, said Monday his group is willing to consider Ankara's proposal.
Sieda's comments appear to be a softening of the opposition's stance that it will accept nothing less than the ouster of the Assad regime and the president's inner circle. But this apparent change in heart could be a way for the opposition to appease its Turkish allies rather than a major shift toward a political settlement of the conflict.
Syrian Information Minister Omran al-Zoubi scoffed at Davutoglu's proposal, saying it reflects "obvious political and diplomatic confusion and blundering."
"Turkey isn't the Ottoman Sultanate; the Turkish Foreign Ministry doesn't name custodians in Damascus, Mecca, Cairo and Jerusalem," al-Zoubi said Monday.
Turkey, which shares a 566-mile (911-kilometer) frontier with Syria, nearly went to war with its neighbor over Syrian support for Turkish Kurdish rebels in the 1990s. The relationship improved dramatically since Assad came to power in 2000, and the two countries reached out to build economic ties. But now, Turkey has become one of the most vocal critics of the Assad regime, accusing it of savagery.
The rebels who are trying to bring down Assad have used Turkey as their base, enraging the regime.
Turkey, NATO's biggest Muslim member, became a regional power in the past decade, backed by a growing economy, emerging democratic credentials and historical and cultural links to neighbors. It pursued pragmatic links with authoritarian leaders, but shifted to a pro-democracy position as uprisings swept the Middle East and North Africa.
From the outset of the Syrian crisis, Turkey has tried to position itself as a major player and power-broker — something some observers say was a miscalculation based on overconfidence in Ankara's influence over Damascus. As recently as April, Davutoglu told Parliament that Turkey "will continue to guide the wave of change in the Middle East."
On Monday, Turkish President Abdullah Gul pushed for a Syrian transition, warning that "the worst-case scenario we have all been dreading" is unfolding in Syria and along its borders.
"Sooner rather than later there will be change, a transition," he told reporters in Ankara. "Our only hope is that this happens before more blood is shed, and before Syria self-destructs more than it already has."
___
AP writers Barbara Surk and Bassem Mroue in Beirut and Suzan Fraser in Ankara, Turkey, contributed to this report.