Syria strikes kill 400 so far this month in Aleppo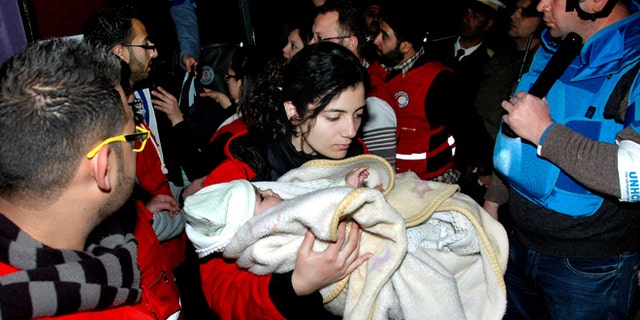 BEIRUT – The United States and Russia promised to try to break the stalemate in Syria peace talks, a U.N. mediator said Thursday, as Syrian activists said government shelling and airstrikes with makeshift barrel bombs killed about 400 people in the country's largest city so far this month.
A second round of peace talks in Geneva has offered a rare opportunity for conversation, but yielded little more than acrimony, with both the Syrian government and opposition signaling they believe negotiations could be over. The violence has escalated on the ground and delegates in Geneva have failed to even agree on an agenda for the talks.
U.N.-Arab League mediator Lakhdar Brahimi said after meeting with senior U.S. and Russian officials Thursday that they pledged to try help.
"They have kindly reaffirmed their support to what we are trying to do and promised that they will help both here and in their capitals and elsewhere to unblock the situation for us because until now we are not making much progress," he told reporters.
He met with U.S. Undersecretary of State Wendy Sherman and Russian Deputy Minister of Foreign Affairs Gennady Gatilov to try to salvage the talks.
"Failure is always staring at us in the face. As far as the U.N. is concerned, we will certainly not leave one stone unturned if there is a possibility to move forward," he said.
The bombings in Aleppo are part of a campaign by President Bashar Assad's forces to wrest control of neighborhoods that were seized by rebels in the northern city since mid-2012.
They come as a cease-fire in the central city of Homs has been extended for three days as of Thursday in order to allow more people to leave besieged rebel-held parts of the city, the Homs governor said. Gov. Talal Barrazi said that as long as there are people who want to leave rebel-held areas in Homs, the truce will be extended.
An official at Barrazi's office said there were no evacuations from Homs on Thursday, adding that officials were working on clearing some 70 men of fighting age who left over the past days.
The official, who spoke on condition of anonymity in line with regulations, said evacuations are expected to resume on Friday. It was the second extension since the truce went into effect last week.
Hundreds of civilians have been evacuated from Homs since Friday when a rare cease-fire went into effect. Aid workers took advantage of the temporary truce that was implemented by the warring sides before the second round of peace talks started in Geneva this week. The cease-fire expired on Wednesday night.
U.N. spokesman Martin Nesirky said the U.N. Office for the Coordination of Humanitarian Affairs, or OCHA, reported that 1,370 people have been evacuated from the Old City of Homs since last Friday and that food, medical supplies and essential household and hygiene items have been delivered for 2,500 people, with enough food for one month.
Khaled Erksoussi, the head of operations with the Syrian Arab Red Crescent told The Associated Press that since Friday, about 1, 500 people have been evacuated from the besieged areas.
Before the aid effort began last Friday, the SARC estimated that up to 3,000 people were trapped in the rebel-held district that had been under government blockade for more than a year, causing hunger and widespread suffering of civilians in Syria's third largest city.
Nesirky also said that over the last two days, aid was also delivered to Bloudan, a tense suburb of Damascus near the border with Lebanon, including food and medicines for 5,000 people.
"Bloudan is only 28 miles from Damascus, but it is in a hard-to-reach area because of insecurity," he said. "The humanitarian team reported that it took four hours to travel the last 15 kilometers (9 miles) and more than 20 checkpoints had to be negotiated."
Violence, meanwhile, continued in Aleppo. The Britain-based Observatory for Human Rights said at least 51 people were killed Wednesday, mainly by barrel bombs, shrapnel-packed explosive devices dropped on eight rebel-held districts from helicopters. The Observatory said that raised the total killed in the city to some 400 since the beginning of this month.
There is no way to independently verify the figure.
Underlining the seemingly futile talks in Geneva, a Syrian opposition spokesman in Geneva said there were no more plans for meetings with the government and the process cannot go on longer without some action first.
Opposition spokesman Louay Safi told The Associated Press that no further negotiations are planned. He spoke before his delegation met with Sherman Thursday evening.
Safi said government officials "just want to waste our time here." Brahimi repeatedly dodged reporters' questions on whether there would be a session with Syrian delegates Friday or how long the talks would last.
From the outset, the talks have been accompanied by a sharp rise in violence on the ground.
The Observatory said that overall at least 4,959 people have died in Syria in the three-week period since Jan. 22, when the government and opposition delegates sat down for the first round of face-to-face meetings in Geneva. The Observatory said in a report Wednesday that the period has seen the highest death toll since the uprising against Assad started nearly three years ago.
More than 130,000 people have died in the conflict since then, activists say. Millions of Syrians have been driven from their homes, some seeking shelter in neighboring countries and others in safe parts of their homeland.