Suicide bombings in Iraq, including blast at funeral, kill at least 46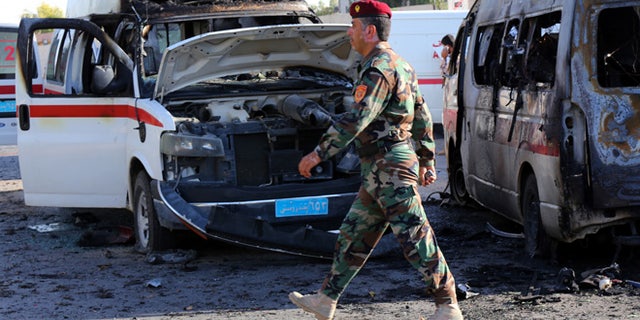 BAGHDAD – Suicide bombings tore through a Shiite mosque south of Baghdad and the relatively safe Kurdish area in the north Sunday as a wave of attacks killed at least 46 people across Iraq, officials said.
A surge in sectarian violence in recent months has heightened fears that Iraq is becoming a new battlefield, nearly two years after U.S. forces withdrew from the country. A period of calm after the pullout had raised hopes for a measure of normalcy in Iraq, but tensions have spiked amid Sunni anger over perceived mistreatment from the Shiite-led government. More than 4,500 people have been killed since April.
The deadliest assault occurred when an attacker blew himself up inside a Shiite mosque during a funeral in a former insurgent stronghold south of Baghdad, prompting city administrators to criticize Iraqi security forces for failing to protect the people. At least 25 people were killed and 40 wounded in Musayyib, about 40 miles south of Baghdad, according to Mohammed al-Khafaji, who heads the town's security committee. He announced a three-day mourning period in the town.
Musayyib Mayor Qassim Raheem said the bomber was linked to Al Qaeda in Iraq and took advantage of large crowds at a funeral for victims of a roadside bombing.
"The security forces don't have sufficient intelligence, and they don't have enough experience," al-Khafaji said.
In northern Iraq, twin suicide car bombs killed at least six Kurdish troops and wounded 30 others in a rare attack in Irbil, the capital of Iraq's largely peaceful self-ruled northern Kurdish region.
The first blast targeted a checkpoint leading to a downtown complex housing the Interior Ministry and other security agencies. As rescue crews and bystanders gathered at the scene, another bomber driving an ambulance attacked the area, the governor of the surrounding province of the same name, Nawzad Hadi, said, giving the casualty toll. Regional Health Minister Raikot Hama Rasheed confirmed the figures.
Gunmen then tried to storm the area, prompting a gunfight with security forces that left at least three attackers dead, he added.
The attack bore the hallmarks of Al Qaeda in Iraq, which typically carries out complex attacks and suicide bombings, but the extremist group is not known to have a large presence in the Kurdish region. Sunday's attack was only the third major foray into the area by insurgents since a 2007 suicide truck bomb hit the Interior Ministry, killing 14 people, and a 2004 twin suicide attack killed 109.
Security forces sealed off the area, making it difficult to ascertain the level of damage inflicted on the Interior Ministry and nearby buildings, but a Kurdish local TV station showed black smoke billowing near one building as fire engines and ambulances rushed to the scene.
In other violence, a car bomb ripped through a vegetable market in the northeastern Baghdad suburb of Hussainya, killing five civilians and wounding 14, a police officer said.
Another bomb exploded near a Sunni mosque as worshippers were leaving services on the outskirts of Baqouba, a city north of Baghdad that saw some of the worst fighting in the years after the 2003 U.S.-led invasion that ousted Saddam Hussein. At least five people were killed and 17 wounded in that attack, a police officer and a medical official said.
Gunmen also opened fire on a Baqouba checkpoint manned by Sunni militiamen, killing one and wounding three, police said. Members of the militias, known as Sahwa, joined U.S. troops in the war against Al Qaeda at the height of Iraqi insurgency and are considered traitors by insurgents.
And drive-by shooters armed with pistols fitted with silencers and killed an employee at the Electricity Ministry while traveling through Baghdad's southern Dora neighborhood, police and medical officials said.
All officials spoke on condition of anonymity as they were not authorized to release information.