Striking S.African auto union to meet employers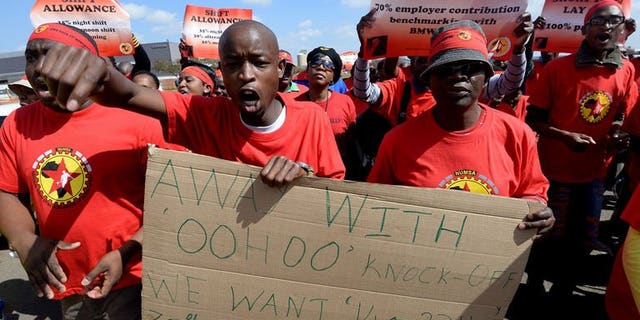 JOHANNESBURG (AFP) – A striking South African auto workers union will meet manufacturers on Thursday in a bid to break a wage deadlock that has crippled a multi-billion dollar export market.
The National Union of Metalworkers of South Africa (Numsa) said the employer-requested talks would aim to find a "lasting settlement" but did not signal the end of the three-day stay-away.
"The strike action is still continuing until the automobile ruling oligarchy concedes to workers' demands," Numsa said in a statement on Wednesday.
"Our members will continue holding pickets or demonstrations outside their respective plants."
Plans for marches next week will also go ahead.
The workers are demanding a 14-percent pay increase. Employers have offered eight percent.
No talks have taken place between the seven major car makers, -- Mercedes Benz, Volkswagen, Ford, Toyota, General Motors, BMW and Nissan -- and the workers since Monday, when tens of thousands downed tools.
The strike is costing South Africa -- the continent's largest car producer -- around 3,000 vehicles or $60 million a day in lost revenue according to industry lobby group, the National Association of Automobile Manufacturers of South Africa.
The group has warned lost production will need to be regained in order to meet obligations to international customers.
On Friday, the union will meet with shop stewards and leaders at the seven major auto plants to give feedback on the talks with employers.