Shutdown closes US military cemeteries in Europe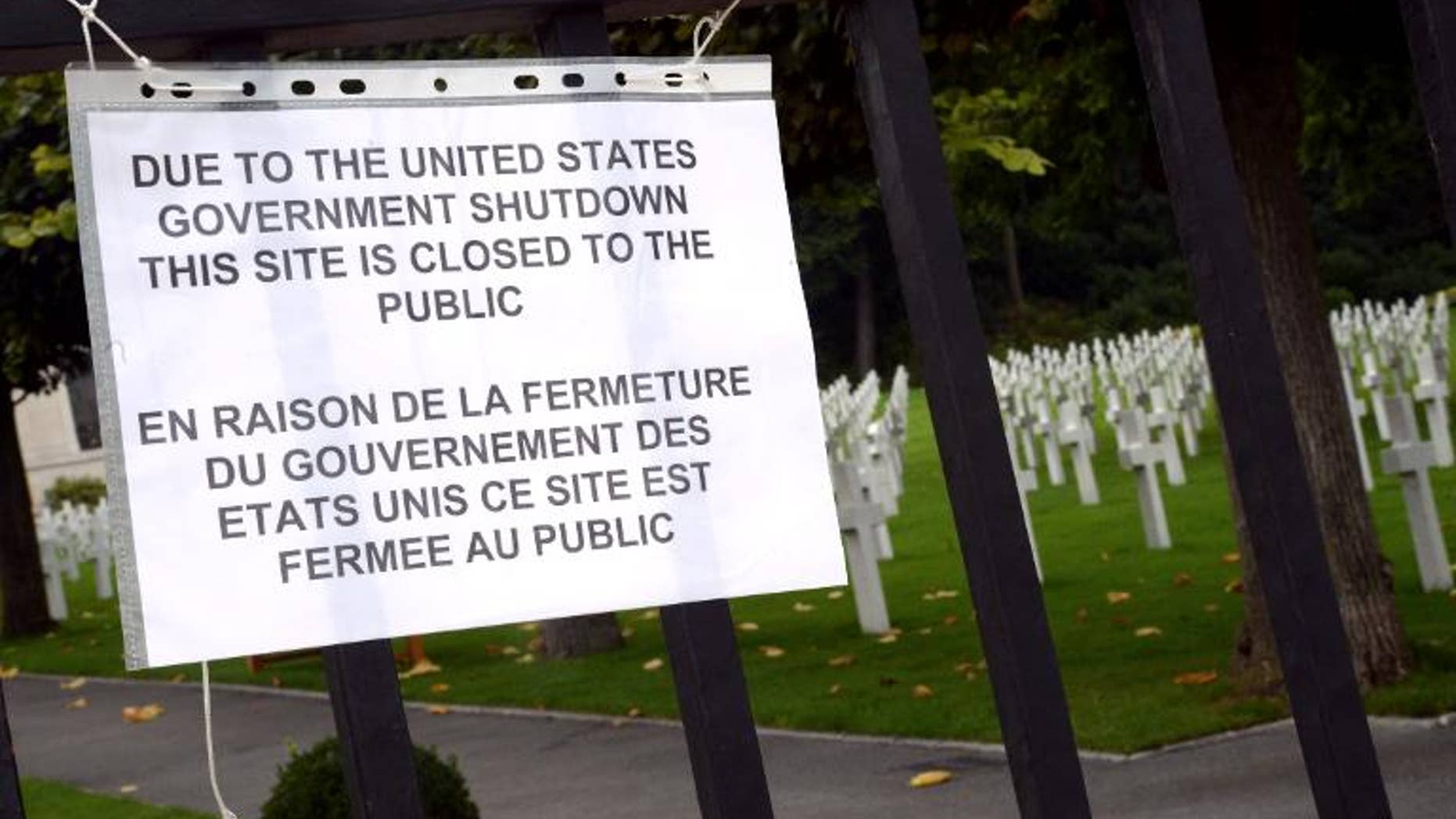 Caen (France) (AFP) – Military cemeteries around the world housing American soldiers who died in key battles during the First and Second World Wars were temporarily closed from Tuesday due to the US government shutdown.
The move affects some 20 cemeteries in France, Belgium, Britain, Italy, Tunisia and Mexico which serve as the final resting place for troops who died in landmark campaigns such as the Normandy D-Day landings, the American Battle Monuments Commission (ABMC) said on its website.
"Due to a lack of funding for ABMC operations (US government shutdown), ABMC cemeteries and memorials are temporarily closed," it said.
Several cemeteries including one in the western Paris suburb of Suresnes bore the same message in French and in English.
Normal operations will resume "when a new funding measure is passed by the US Congress and signed by the president of the United States," the ABMC said.
Christopher Palmer, a spokesman for the US embassy in Paris, confirmed the move but said the mission and consulates in the country will remain open.
A restaurant owner near the American cemetery of Colleville-sur-Mer located on a bluff overlooking Omaha Beach, one of the landing beaches of the Normandy invasion, expressed fears that her business would be hit.
The site, which houses the remains of more than 9,300 US troops, attracts more than one million visitors a year.
"Today there were people," she said, speaking on condition of anonymity. "I had 80 to 90 people. Everybody was only talking about this, they didn't know. Even the guides brought tourists.
"But if tomorrow, the cemetery is still closed it could have serious repercussions on our business."
At the American cemetery at Bony, containing the graves of 1,844 soldiers who died in the Battle of the Somme during World War I and other operations, employees did not turn up for work, a worker said.
"But they will be paid because we are under French law," the worker said, joking that these were just "extra holidays".
Hundreds of thousands of federal workers in the US faced layoffs, and national parks and large swathes of government operations were closed due to the shutdown, sparked by the failure of the houses of Congress to agree a new budget.
It was the first shutdown in 17 years.