Sepp Blatter basks in voter support; Rousseff skips FIFA meeting ahead of World Cup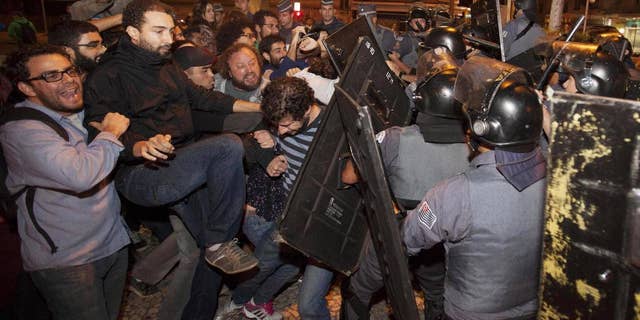 SAO PAULO – FIFA President Sepp Blatter's re-election bandwagon is picking up momentum in the city hobbled by a transport strike before it hosts the opening match of the World Cup.
Blatter has been collecting standing ovations from his voters, while police in Sao Paulo aim pepper spray on striking workers.
Meanwhile, the other president in Brazil — head of state Dilma Rousseff — has decided to stay away from a key FIFA event.
Rousseff had been scheduled to give a welcome speech Tuesday for Blatter and his 209 member federations at a formal ceremony and banquet to open FIFA's annual assembly.
Instead, Rousseff is leaving that duty to her sports minister, Aldo Rebelo, though she should still attend the Brazil vs. Croatia match on Thursday.
World Cup protocol for the opening game has been changed to protect Rousseff and Blatter. They won't be making the usual speeches before the kickoff, meaning fans in the 61,600-capacity Itaquerao stadium won't be able to drown them out with jeers — as occurred at the Confederations Cup opening match in Brasilia last year.
Still, Blatter is enjoying success in his personal political world in Brazil.
Sao Paulo, the biggest city in South America, woke up Monday to a fifth day of transport disruption and television images of street clashes between police and transport workers.
Blatter spent parts of the day in his police-escorted official car being taken to address delegates from three of FIFA's six continental confederations.
Now 16 years into his FIFA presidency, Blatter is seeking support for a fifth term. The 78-year-old Swiss is currently expected to win the election scheduled next May.
Blatter met Monday with officials from Africa, Asia and South America, telling them that European media reports questioning the integrity of their football leaders were motivated by a form of racism.
"We are in the situation where we need leadership. I still have fire inside me," said Blatter, adding that unspecified critics want to destroy FIFA.
Blatter also told member federations they would share in bonus payments from World Cup profits.
The World Cup is producing $4 billion-plus of commercial revenue for FIFA which is untaxed in Brazil. The host nation is spending $11 billion-plus for providing stadiums, security and upgraded airports and transport links, some of which have been completed on time.
Blatter was expecting more warm welcomes Tuesday morning when visiting delegates from the North and Central American and Caribbean group, then Oceania.
The tough crowd is saved for last. European football body UEFA is still seething, recalling Blatter's 2011 promise to leave office in 2015, clearing a way for its leader Michel Platini to get the FIFA presidency.
At the downtown Renaissance Hotel, Blatter is unlikely to receive an ovation from the Europeans, whose 54 members comprise barely a quarter of FIFA's constituency.
Rousseff has her own re-election date in October and photo opportunities with Blatter seem far from a vote-getter when FIFA is perceived as receiving perks at the cost of improved public services.
Judging by surprisingly few national green, yellow and blue flags being displayed on people's homes, football-obsessed Brazilian citizens seem to be withholding support for the first World Cup here since 1950.
Rousseff follows Jennifer Lopez in declining a FIFA invitation.
J-Lo sings the official World Cup song "We Are One" but will not perform at the opening ceremony Thursday. FIFA cited unspecified "production issues."
Two days before the first of 64 matches, the $400 million stadium is unfinished, a key subway route might be closed and it is unclear if activists plan to repeat street protests which dogged the Confederations Cup.
Meanwhile, Blatter's grip on FIFA power seems secure.