Security forces kill more than 40 in northern town, activists say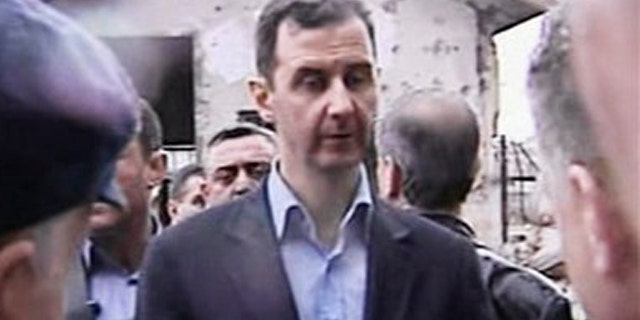 BEIRUT – Syrian activists said Wednesday a government offensive in northern Syria during which troops overran a major opposition stronghold has left behind scenes of destruction, with corpses in the streets, homes burned to the ground and shops that have been pillaged and looted.
The reports of 40 people dead in Saraqeb since Sunday come as Arab leaders meeting in Baghdad remain deeply divided over how to help solve Syria's yearlong crisis. President Bashar Assad said he has accepted a six-point U.N. plan to resolve the conflict, including a cease-fire, but the opposition is deeply skeptical that he will carry it out.
The fall of Saraqeb, a large town on the main highway linking the northern city of Aleppo with the Syrian capital, was the latest in a string of opposition strongholds to fall to ruthless assaults by the better-equipped Syrian military. Most of those strongholds and areas around them have since seen renewed flare-ups in violence, reflecting the resiliency of the uprising and the military's inability to firmly put down the revolt.
Activists on Wednesday also reported clashes between Syrian army units and rebels in the country's center, east and south.
At least four civilians, four soldiers and five army defectors were killed in the central town of Qalaat al-Madiq and nearby villages, activists said, as troops advanced and closed in on rebels. The town, in Hama province, has been battered by heavy machine guns and artillery for days. Activists said the town's historic castle was not spared the shelling.
"People are fleeing their homes, many of them unsure which direction to take," said an activist in the area who identified himself as Ammar.
The military seized Saraqeb overnight after a four-day offensive that began Sunday. Rebel fighters had an active presence in the northern town and used it as a base to target army convoys nearby. In Saraqeb, as in other towns and cities recaptured recently by the army, Syrian troops left behind a trail of death and destruction.
The Local Coordination Committees network issued an appeal for international humanitarian organizations to urgently visit the town and said there were many unidentified corpses and wounded people there.
"Regime forces have forcibly displaced a large number of activists' families, and burned and shelled approximately 300 homes. They also pillaged and set fire to most shops," the LCC said in a statement.
The British-based Syrian Observatory for Human Rights confirmed the reports and said most of the town's residents had fled along with the rebels. It said more than 40 people had been killed during the fighting over recent days.
The reports by the groups and by other activists could not be independently confirmed. Video from Saraqeb posted on the Internet appeared to back claims of destruction and pillaging.
One video showed what appeared to be a destroyed home. Another showed burned out apartments, several burned cars and a row of shops with their shutters blown off. The slogan "Down with Bashar" was sprayed on one of the shutters. "Down with Iran's dog," read another. Iran is one of Syria's last close allies.
Activist Fadi al-Yassin in the northern province of Idlib said the army was now in full control of Saraqeb, stationing snipers on rooftops and conducting searches and raids using civilian cars and taxis to confuse residents.
He said army defectors known as the Free Syrian Army resisted on the first day but then pulled out, fearing that they would bring more destruction on the town.
"They fled because there was no way they were going to be able to face the regime's huge military force," he said by satellite phone.
He put the toll at around 50 killed since Sunday, mostly civilians but also including rebel fighters.
"The situation is very hard on the ground, and it's difficult for us to get there to find out exactly what is going on because the army is in complete control of the city," al-Yassin said.
Elsewhere, three Syrian soldiers were killed in clashes with rebels in the central province of Homs on Wednesday. The Observatory said the fighting broke out when government forces tried to enter the town of Rastan, which is in the hands of army defectors. The activist group also reported clashes in the Deir el-Zour province along the Iraqi border and said government troops fired mortars at the city of Homs.
The fresh violence coincides with a new wave of international diplomacy seeking to end the conflict that the U.N. says has left more than 9,000 people dead.
Syria said Tuesday that Assad accepted a peace plan put forward by U.N.-Arab League envoy Kofi Annan. The plan calls for Damascus to immediately stop troop movements and use of heavy weapons in populated areas and to commit to a daily two-hour halt in fighting to allow humanitarian access and medical evacuations.
It also calls for a full cease-fire to be supervised by the U.N. so that all parties can discuss a political solution.
Members of the fractured opposition struggling to end Assad's rule accused him of using the plan to stall for time as his troops make a renewed push to finish off bastions of dissent.
The U.S. and Britain, both of which have called on the Syrian president to step down, said Assad must back his words with action.
The 22-member Arab League was discussing a new resolution on the Syria conflict at a summit in Baghdad. The body's foreign ministers were expected to ask their heads of state to urge the Syrian regime to halt its crackdown on civilians, allow humanitarian groups into the country and free detainees. The ministers were meeting in the Iraqi capital on Wednesday, and heads of state will gather on Thursday.
A Syrian Foreign Ministry spokesman, Jihad Makdessi, said Damascus would "not deal with any initiative" that might come out of the 22-member Arab League.
The League suspended Syria's membership last year as a part of a package of sanctions aimed at pressuring it to stop the crackdown.
Arab countries are divided over how aggressively to intervene in Syria's turmoil. Gulf nations, particularly Saudi Arabia and Qatar, are believed to want to start providing weapons to Syria's rebels and even carve out a "safe area" inside the country that the opposition can use as a staging ground.
Iraq, the host of this week's summit, is more cautious. Baghdad's Shiite-dominated government is close to Iran, Assad's closest ally, and is wary of hurting those ties.