Secretive confidante of South Korean president indicted in corruption scandal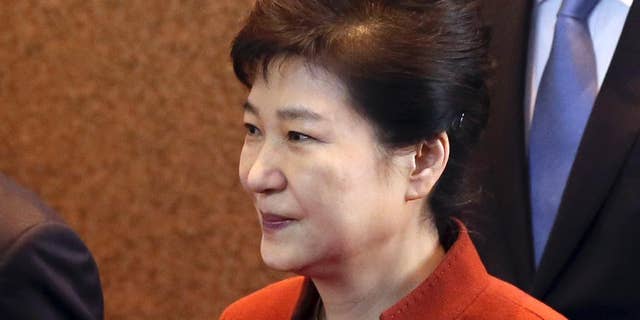 South Korean prosecutors said they believe President Park Geun-hye conspired with a secretive confidante who allegedly manipulated government affairs and exploited her presidential ties to amass an illicit fortune.

LARGE ANTI-PARK PROTEST PLANNED IN SEOUL, 4TH AMID SCANDAL
The damning revelation came as prosecutors Sunday indicted Park's longtime friend Choi Soon-sil on suspicion of interfering with state affairs and bullying companies into giving tens of millions of dollars to foundations she controlled.
Prosecutors are also preparing to question Park, which could happen in the next few days.
The prosecution on Sunday also indicted two former presidential aides who allegedly conspired with Choi.
Park is facing growing calls to resign over the scandal critics say has undermined the country's democracy. Emboldened by the huge protests in recent weeks, opposition parties have been stepping up pressure on Park to quit.
On Saturday, police said about 170,000 people turned out for the latest anti-Park protest in streets near City Hall and a boulevard fronting an old palace gate in Seoul.
Demonstrators also marched in streets near the presidential offices, carrying candles and illuminating cellphones, and shouting "Park Geun-hye step down" and "Arrest Park Geun-hye."