Search intensifies for 23 missing in Italy after avalanche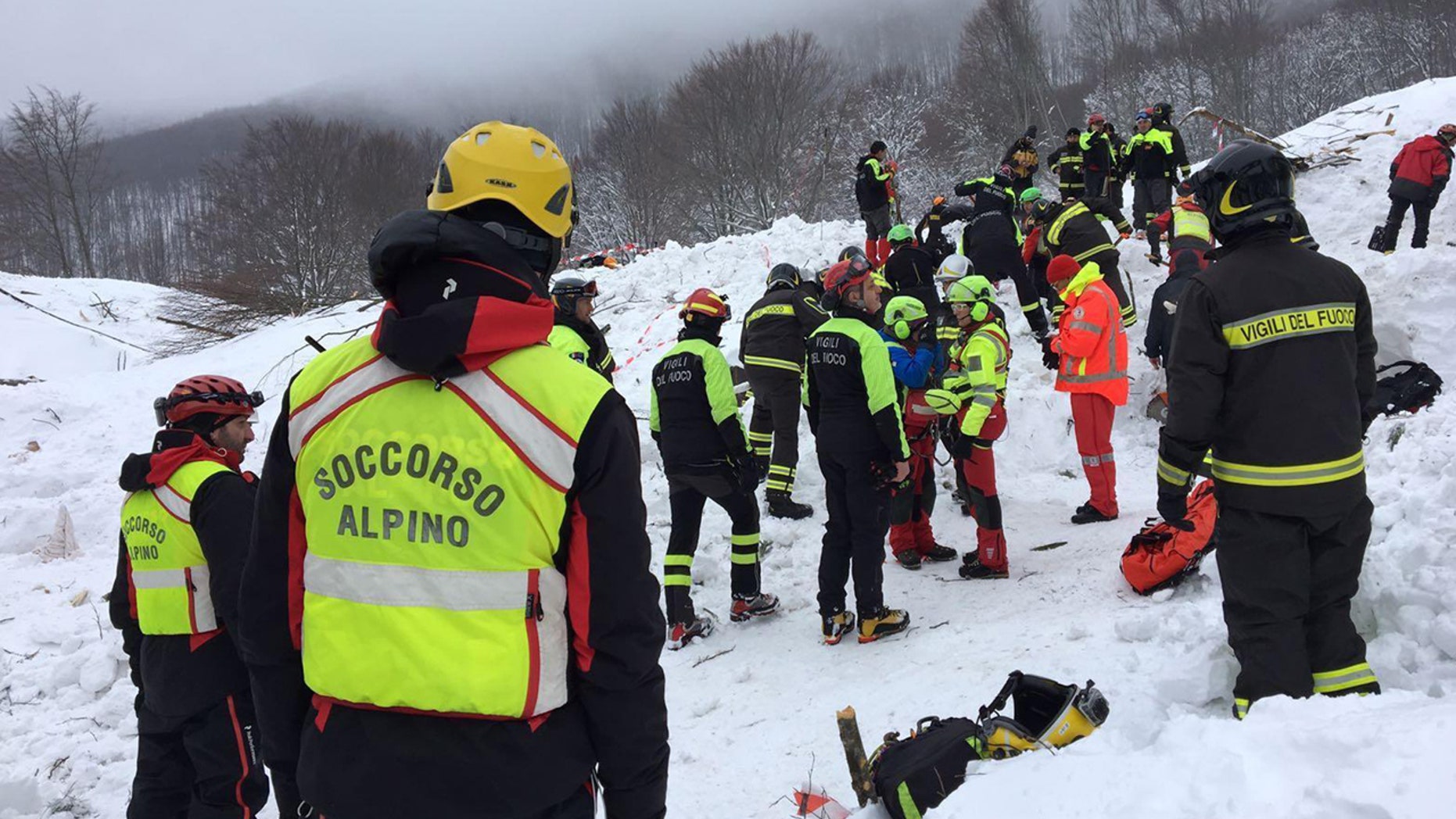 FARINDOLA, Italy – The search intensified on Saturday for the 23 people still missing after an avalanche covered a hotel in Italy earlier in the week.
Five people have been confirmed killed, including two hotel waiters, while nine, including four children who had been on family vacations, have been pulled alive from the reinforced concrete structure buried beneath as many as eight meters of snow last Wednesday.
A maintenance worker at the luxury Hotel Rigopiano who escaped being buried under the deadly avalanche said he called for hours in hopes of finding any survivors. The man said the scene "was a nightmare."
Doctors at the hospital in Pescara said one of the adults underwent surgery for a crushed arm, and was in fair condition, but that all of the other patients were doing well. The children were being moved from intensive care to the pediatric ward.
Rescue crews were intensifying their operation, fighting against the clock and weather conditions including fresh snowfall and freezing temperatures.
"The research is difficult also because the site is in a precarious equilibrium, that's why the interventions are made very carefully and why we cannot intervene with big machineries risking to modify a very vulnerable situation," said Titti Postiglione of Italy's civil protection agency.
Rescuers have been using saws, shovels and their hands hoping to hear any sounds that could suggest survivors.
The search included sending sound-sensitive instruments down into snow-crusted debris. Rescuers passed crates full of chunks of hardened snow and ice to colleagues as they tried to penetrate deeper into the wreckage, creating the rough equivalent of elevator shafts to allow searchers to descend into the smashed hotel.
Searchers also used devices that could pick up any electronic waves emitted by cell phones of the missing, said Walter Milan, a spokesman for the alpine rescuers.
That voices haven't been heard lately doesn't mean no one is still alive, he said, explaining "we know that thick walls and snow isolates" possible voices.
Escape routes have been planned for search crews due to the continued avalanche risk. Each participant has also been equipped with a tracking device in case they were buried under the snow.
The Associated Press contributed to this report.