Russian state-controlled media newscaster warns traitors not to move to UK
A reporter for Russia's main state-controlled media television channels warned so-called traitors Wednesday not to move to the United Kingdom following the assassination attempt on ex-Russian spy Sergei Skripal.
Kirill Kleimenov of Channel One was reporting on the alleged assassination attempt on Skripal and his daughter Yulia, the BBC reported.
The two were poisoned by an unknown nerve agent in Salisbury, England, on Sunday. The father and daughter remain in critical condition. The British government deployed the military Friday to help with the investigation. British authorities say it's too soon to place blame, but suspicions have fallen on Russia.
RUSSIAN SPY SERGEI SKRIPAL ASSASSINATION ATTEMPT: UK DEPLOYS MILITARY AS MOSCOW, UNDER SUSPICION, OFFERS HELP
Kleimenov had a cryptic message for viewers at home.
"I don't wish death on anyone, but for purely educational purposes, I have a warning for anyone who dreams of such a career," he said. "The profession of a traitor is one of the most dangerous in the world."
Kleimenov said some traitors have lived "to a ripe old age" while some others have spiraled into a world of substance abuse issues, depression and suicide. The anchor had a piece of advice "for traitors or those who simply hate their country in their free time."
"Don't choose Britain as a place to live," Kleimenov warned. "Something is wrong there. Maybe it's the climate, but in recent years there have been too many strange incidents with grave outcomes there."
SERGEI SKRIPAL POISONING: DID DAUGHTER UNWITTINGLY CARRY NERVE AGENT INTO EX-RUSSIAN SPY'S HOME?
British officials have suspected Russia may be involved in the alleged assassination attempt because it bears similarities to the death of former Russian agent Alexander Litvinenko. He was poisoned in London in 2006 with radioactive polonium-210.
A British public inquiry found Russia was responsible for Litvinenko's killing, and that Russian President Vladimir Putin likely approved it.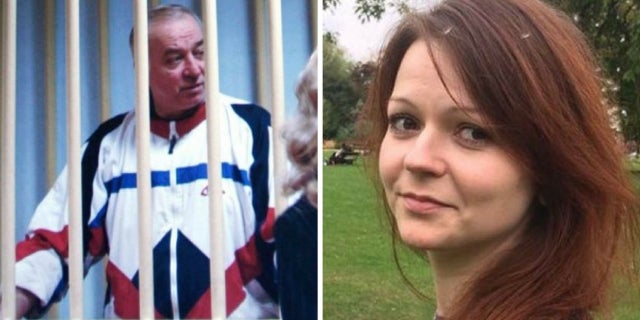 The Kremlin has denied any involvement in the poisoning.
Skripal, a 66-year-old former colonel in Russia's GRU military intelligence service, was convicted in 2006 of spying for Britain and imprisoned. He was freed in 2010 as part of a widely-publicized spy swap in which the U.S. agreed to hand over 10 members of a Russian sleeper cell found operating in America in return for four Russians convicted of spying for the West.
Fox News' Lucia Suarez, Travis Fedschun and The Associated Press contributed to this report.