Russia reportedly says it chased apparent US sub from Barents Sea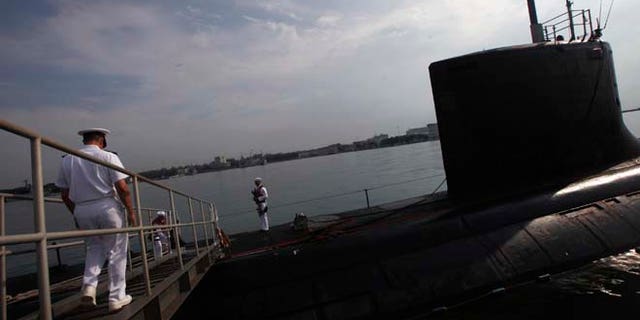 MOSCOW – Russian state news agencies say the country's navy claims to have driven away a submarine believed to be American that entered Russia's northern waters.
The reports Saturday, which could not be immediately confirmed, cited an unnamed representative of the navy's general staff as saying the incident occurred Thursday in the Barents Sea. The Barents Sea lies off northwest Russia and the Russian Navy's Northern Fleet is based on its shores.
The reports said the fleet sent several vessels and an anti-submarine Il-38 aircraft to drive the submarine away.
The spokesman from the Russian Navy said the foreign submarine is believed to be a U.S. Navy Virginia-class vessel, Reuters reported.
"The Northern Fleet anti-submarine forces' active maneuvers expelled the submarine from the Russian Federation's boundary waters," the spokesman said, according to Interfax.
The Pentagon did not immediately confirm the report for FoxNews.com.
The reports come at a time when tensions between Washington and Moscow appear to be increasing over Ukraine.
U.S. Ambassador Samantha Power told the U.N. Security Council Friday that any further intervention by Moscow in the Ukraine would be viewed as an "invasion."
It follows recent reports by the West and Ukraine's pro-Western government that accused Moscow of beefing up its military on the border, dispatching what NATO estimates is 20,000 troops to the frontier.
Power said if Moscow wants to send aid to pro-Russian separatists it should be delivered by neutral international organizations — not by Russians.
"Therefore any further unilateral intervention by Russia into Ukrainian territory, including one under the guise of providing humanitarian aid, would be completely unacceptable and deeply alarming — and it would be viewed as an invasion of Ukraine," she said.
Her comments come one day after Russia retaliated for sanctions by banning most food imports from the West, dealing a blow to Europe that also takes aim at hurting the U.S., Canada and Australia.
The U.S. and the European Union have accused Russia, which annexed Ukraine's Crimean Peninsula in March, of supplying arms and expertise to a pro-Moscow insurgency in eastern Ukraine, and have responded by slapping sanctions on Russian individuals and companies. Tensions rose further last month when a Malaysian jetliner was shot down over rebel-held territory, killing all 298 people aboard, and the West accused Russia of most likely providing the militants with the missiles that may have been used to bring the plane down.
Moscow denies supporting the rebels and accuses the West of blocking attempts at a political settlement by encouraging Kiev to use its military to crush the insurgency.
The Associated Press contributed to this report