Royal Wedding Dress Designed by McQueen Label Sarah Burton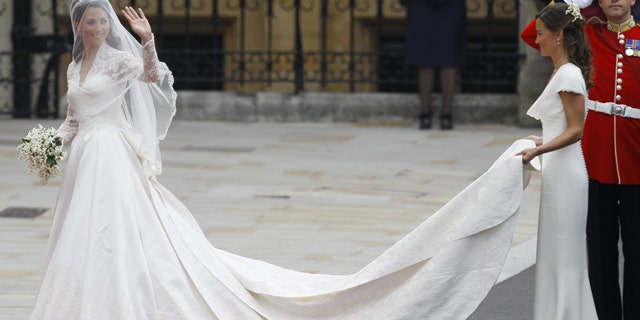 LONDON -- It was the best-kept secret of the royal wedding, but Kate Middleton stepped out in a simple white long-sleeved dress with a surprisingly-plunging neckline designed by the creative director of the McQueen label, Sarah Burton.
The dress was topped off with a veil made of yards of lace, covering her long hair and draped around her shoulders, drop diamond earrings and a small tiara.
The Manchester-born designer, 36, took over the McQueen label after the suicide of its founder at the age of 40 last year and was the bookmakers' favorite. On Thursday, a woman desperate to hide her identity, but thought to be Burton, was seen arriving at The Goring hotel, where the Middleton family was based.
Wedding planners had gone to great lengths to keep Kate's designer and gown secret until she emerged from her Rolls-Royce outside Westminster Abbey. A large white tent was erected at the entrance of the hotel in order to allow her to get into the car without revealing the dress.
The queen, as predicted, chose a primrose yellow outfit by Angela Kelly, her official designer. Kelly had prepared two outfits for the queen to choose from.
Prince Charles' wife Camilla, the Duchess of Cornwall, wore a champagne silk dress and a duck egg blue and champagne coatdress by Anna Valentine.
The mother of the bride, Carole Middleton, chose a sky blue wool crepe coatdress over a matching silk dress by Catherine Walker.
Prince Harry's girlfriend Chelsy Davy was the first to show off one of the most keenly anticipated dresses of the day at the Abbey. The 25-year-old Zimbabwe-born blond wore an aqua green bias reverse satin short dress with a silk jacket of the same color by Italian designer Alberta Ferretti. She was later due to change into a one-shoulder midnight blue crepe satin gown with a cutout detail on the back for the evening party by the same designer.
Singer-turned-designer Victoria Beckham chose one of her own dark-blue dresses and a Philip Treacy hat, while her husband, Galaxy star David Beckham, donned a Ralph Lauren suit and his Order of the British Empire (OBE) medal ... pinned to the wrong jacket lapel according to etiquette experts.
Irish milliner Philip Treacy has been working overtime ahead of the wedding with 36 hats to his credit on show at the Abbey including ones for Camilla and Princess Beatrice.