Rebels Advance in Misrata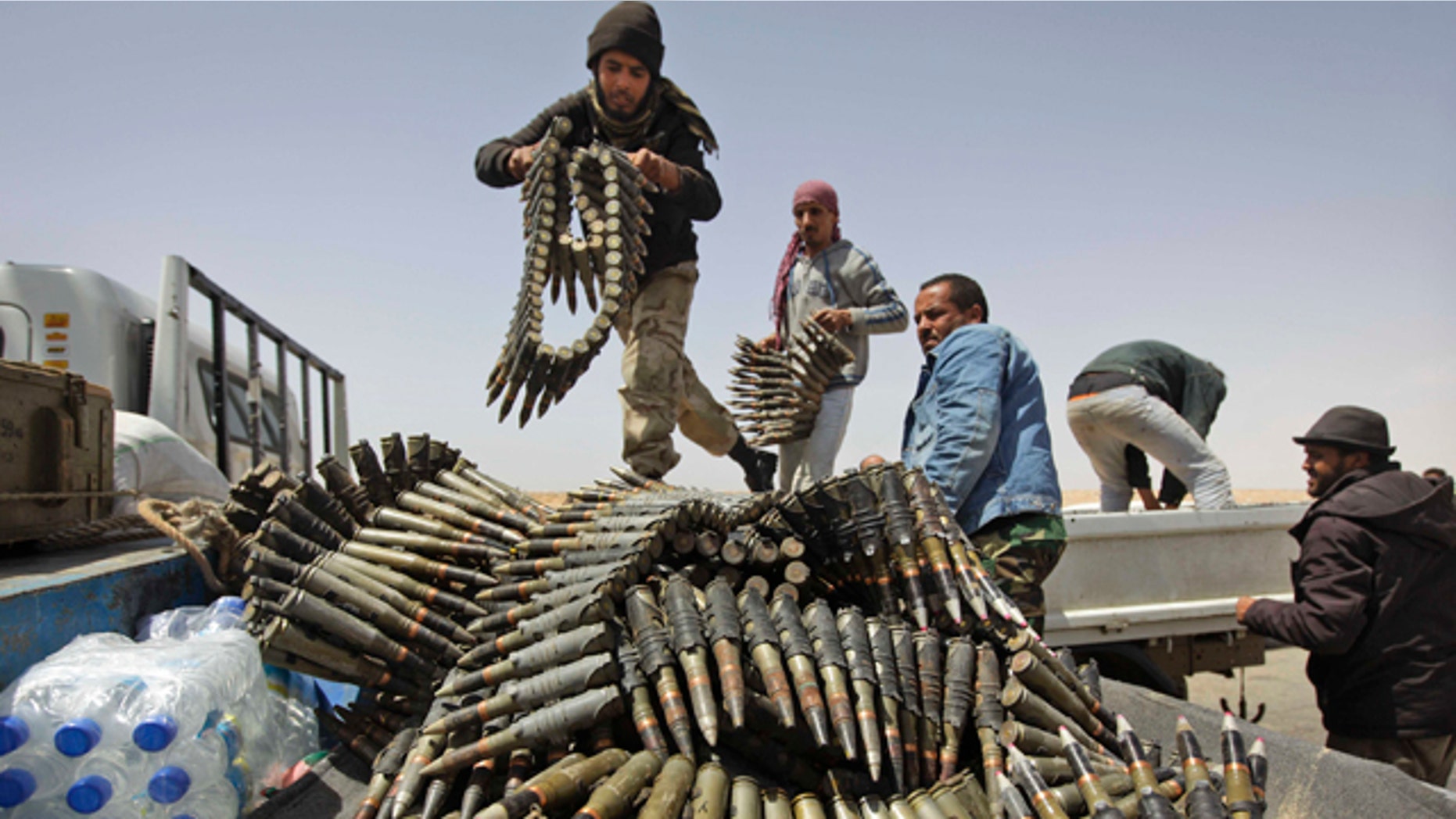 Libyan rebels gained new ground in Misrata over the weekend, while officials in the Qaddafi regime denied the use of heavy weapons or banned cluster bombs in the shelling of Misrata and the rebel-held city of Ajdabiya farther east.
Since early March, forces loyal to Col. Moammar Qaddafi have been trying to fight their way into Misrata's rebel-controlled center, achieving little while inflicting immense suffering on residents who have chosen to remain.
On Sunday, government officials in Tripoli canceled a trip for reporters to Misrata, about 125 miles east of the capital, as several areas in the city came under artillery and mortar fire, said a rebel spokesperson identifying himself only by his first name, Mohammed.
On Saturday rebels reclaimed a new patch of land southwest of the city known as Al-Ghayran, beyond Tripoli Street, the main front line in the battle, according to a doctor with the rebels, Ayman Abu-Shahma. In the fight for Al-Ghayran, rebels destroyed three tanks, he said.
The doctor said government troops retaliated by firing Grad rockets at several targets around the city, including a dairy-products plant, a clinic and a road reserved for container trucks leading to the port. The waterfront is the rebels' only outlet to the outside world.
Later, Dr. Abu-Shahma said a total of 23 people were killed on Saturday and Sunday, including rebel fighters, civilians and a nurse at a clinic in an area known as Zawiyat al-Mahjoub, also southwest of the city.
Amid the continued bloodshed in Misrata, Baroness Valerie Amos, the United Nation's undersecretary-general for humanitarian affairs and emergency relief, traveled to Tripoli with other U.N. officials for a few hours Sunday to press senior Libyan officials for an immediate cessation of hostilities and for U.N.-agency access to conflict zones.
On Thursday, pro-Qaddafi forces had unleashed a barrage of Grad rockets toward the port neighborhood of Qasr Ahmed, killing up to 32 people, including many waiting outside a bakery, and preventing several humanitarian ships from docking in Misrata.
A military spokesman in Tripoli denied the use of artillery and rockets in the attack despite compelling evidence indicating otherwise.
The situation in Misrata, under siege by Qaddafi forces for almost 50 days, is a focal point of most international humanitarian and aid organizations. Since early April, many have used sea access to bring in food, water and medical supplies, and to evacuate the wounded and some of the thousands of migrant workers marooned at the port.
But there appears to be no end in sight for the crisis in Misrata, with Qaddafi's forces digging in while rebels, who have set up their own local political and military councils in coordination with their counterparts in the eastern rebel-stronghold of Benghazi, saying they won't give up until the Libyan leader relinquishes power.
"If he wants to rule over ruins and bodies, then he is welcome," said Dr. Abu-Shahma in Misrata referring to Col. Qaddafi. "But as long as we are alive, no way."