Qaddafi Forces Shell City Despite Libyan Government Declaring Cease-Fire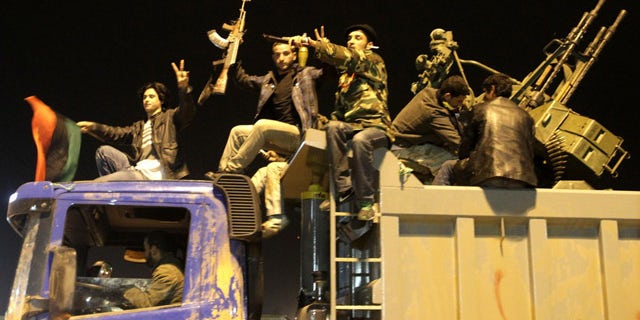 Residents in the Libyan city of Misrata say they are still being bombarded and shelled by pro-Qaddafi forces Friday despite Libya declaring an immediate halt to military action on anti-government forces.
"Qaddafi's forces are bombing the city with artillery shells and tanks. We now have 25 people dead at the hospital, including several little girls," Dr Khaled Abou Selha told Reuters.
A Libyan government spokesman says that no military operations were launched on Misrata or anywhere else, according to Reuters.
A Libyan rebel spokesman also dismissed the cease-fire announcement, claiming Qaddafi's forces are still attacking key cities in the east and the west.
Mustafa Gheriani, a spokesman for the national opposition council based in Benghazi, said there is "no cease-fire."
Gheriani said regime forces are shelling the eastern city of Ajdabiya and Misrata, the last rebel-held city in the western half of the country.
Pro-Qaddafi forces are advancing quickly towards Benghazi, Al-Jazeera reports.
A correspondent for Al-Jazeera reported that Qaddafi's troops are facing off against rebel forces in the towns of Al-Magroun and Slouq, about 30 miles from Benghazi.
A senior foreign ministry official said the government forces around Benghazi have no plans to attack the city and their presence does not violate the cease-fire, according to Reuters.
U.S., France, Britain, and Arab states are threatening military actions if Qaddafi does not comply with demands to reconnect electricity and water in Libya communities.
"Humanitarian assistance must be allowed to reach the people of Libya. These terms are not negotiable. If Qaddafi does not comply with the resolution, the international community will impose consequences, and this resolution will be enforced through military action," the U.S., France, Britain, and Arab states said in a joint statement.
French President Nicolas Sarkozy also said in a statement that Qaddafi forces should pull out of Misrata, Zawiya, and Ajdabiya, Reuters reports.
The opposition has expressed hope the U.N. resolution would help turn the tide in their favor after days of fierce fighting.
"We think Qaddafi's forces will not advance against us. Our morale is very high now. I think we have the upper hand," Col. Salah Osman, a former army officer who defected to the rebel side, said. He was speaking at a checkpoint near the eastern town of Sultan.
Libyan Foreign Minister Moussa Koussa said Friday that the cease-fire is meant to "take the country back to safety and security for all Libyans."
"The government is opening channels for true, serious dialogue with all parties," he said during a news conference in Tripoli.
The United Nations authorized a no-fly zone Thursday and "all necessary measures" to protect the Libyan people.
The U.N. Security Council resolution set the stage for airstrikes, a no-fly zone and other military measures short of a ground invasion.
President Obama said Friday that the U.N.'s terms "are not negotiable."
"All attacks against civilians must stop," Obama said in a statement.
The president added that U.S. forces will not be deployed in Libya.
"The U.S. is not going to deploy ground troops into Libya and we are not going to use force to go beyond a well-defined goal."
Koussa on Friday criticized the U.N.'s authorization of international military action, calling it a "violation of the national sovereignty of Libya."
He said Libya found it "strange" and "unreasonable" to use a resolution that "authorizes military power," and claimed the U.N.'s decision would "increase the suffering of the Libyan people."
Earlier Friday, Libyan leader Muammar Qaddafi's said "hell" awaited anyone who attacked the country, as the international community prepared for intervention, state TV reported.
The Obama administration reacted to the cease-fire announcement Friday by saying the U.S. will only be impressed with action, not words. Secretary of State Hillary Clinton said the goal remains to get rid of Qaddafi.
"We are going to be not responsive or impressed by words, we would have to see actions on the ground and that is not yet at all clear," Clinton said during a press conference. "We will continue to work with our partners in the international community to press Qaddafi to leave and to support the legitimate aspirations of the Libyan people."
She provided no details of what military action would entail or when it might begin.
The Associated Press, Reuters and Al-Jazeera contributed to this report.