Prison riots across Brazil leave at least 18 dead; more than 3 dozen inmates escape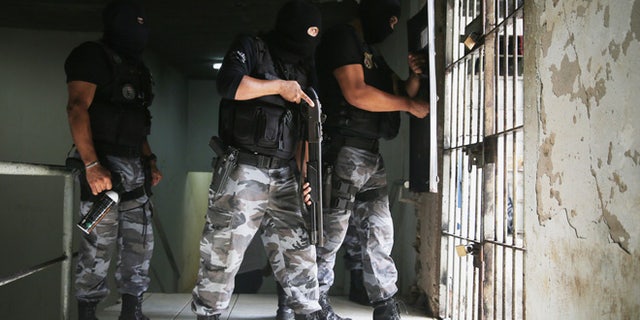 NEWYou can now listen to Fox News articles!
RIO DE JANEIRO (AP) – At least 18 inmates died in clashes in two separate penitentiaries in Brazil's Amazon region and more than three dozen escaped after a third prison riot caused a large fire in a complex outside São Paulo, officials said Monday.
Authorities were investigating a possible connection between the first two uprisings in the jungle states of Rondonia and Roraima, police said. Ten prisoners died in the mutiny in Roraima, while eight others were killed in a similar riot about 800 miles (1,300 kilometers) away in the penitentiary in Rondonia.
Roraima's justice secretary Uziel Castro said at least seven of the bodies were piled up and burned after the Sunday prison mutiny in that state. At least two other bodies were found in a different section of the Monte Cristo prison, but it wasn't immediately clear where the tenth was found. Castro says at least three of the bodies were beheaded and efforts to identify them have been slow.
The secretary said the clashes erupted between rival crime gangs. "Every penitentiary system in Brazil was aware that something was about to happen," Castro told a news conference. But he said authorities were surprised when the riots erupted on a day the prisoners had visitors.
Officers said Monday that about 50 people who were visiting the penitentiary in Roraima, on the border with Venezuela and Guyana, were held hostage. They were later released unharmed.
Hours later, police confirmed that a similar riot killed at least eight inmates in Rondonia state's capital of Porto Velho in the Santos Pinheiro penitentiary. A police officer who spoke on condition of anonymity because the uprising was still under investigation told The Associated Press there was evidence that the riot was started by "the biggest criminal organization of São Paulo state."
The organization known as Primeiro Comando da Capital is a powerful Brazilian prison gang that has been expanding into other states and even into Bolivia and Paraguay.
The motive behind the third prison riot was not immediately clear. São Paulo's corrections department said police officers managed to recapture 18 of 55 inmates who had escaped the psychiatric ward Monday evening in Franco da Rocha, a suburb of greater São Paulo. Broadcaster Globo showed images of flames billowing from the prison complex.
Like us on Facebook
Follow us on Twitter & Instagram