Police watchdog under siege in Ukraine amid weeks of mass protests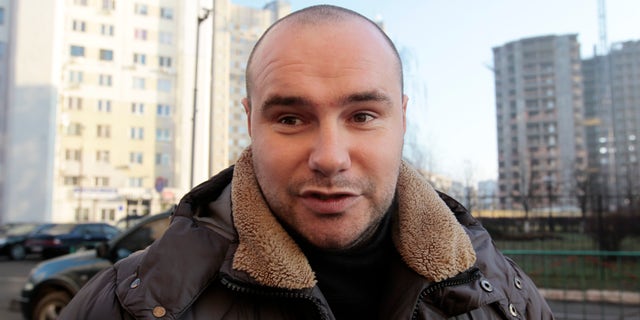 KIEV, Ukraine – Volodymyr Maralov knew he was taking risks by tackling suspected Ukrainian police corruption, but he didn't expect to come close to death.
Last week, the 27-year-old activist with the group Road Control said he was dragged out of his car and shot in the chest with his own weapon. He said surgeons removed a rubber bullet that penetrated 6 centimeters (2 inches) into his chest, stopping near his heart.
The attack, which Maralov accused police of carrying out, followed the jailing of two other group members and the beating of another.
Police spokesman Serhiy Burlakov denied that officers had targeted Road Control or attacked Maralov.
The activist group monitors alleged abuses by the traffic police. The force's alleged corruption is one of many issues angering protesters who have gathered in central Kiev for massive anti-government demonstrations for more than a month. A central issue for many of the protesters has been Ukrainian President Viktor Yanukovych's decision to scrap a deal with the European Union in favor of closer ties to Russia.
Tensions escalated further on Wednesday when a journalist and opposition activist, Tetyana Chernovil, was brutally beaten outside Kiev, hours after publishing a story on the lavish suburban residence that she said belongs to the country's embattled interior minister, a staunch Yanukovych ally.
Another opposition activist who organized protests in the eastern city of Kharkiv was beaten and stabbed with a knife on Tuesday night. Opposition activists and journalists rallied outside the Interior Ministry office in Kiev Wednesday in protest.
As the anti-government demonstrations grew, so did the problems of Road Control, which has been helping the protesters by preventing police from blocking vehicles carrying food, firewood and activists to the protest encampments.
"They want to destroy us — either jail us, or chase us away abroad or just kill us off one by one," claimed group spokesman Yehor Vorobyov.
Authorities have denied waging a campaign against the group.
"There has been no so-called hunt," Interior Ministry spokesman Serhiy Burlakov said in an interview with The Associated Press. "We only act within the framework of the law."
Road Control formed five years ago when leader Rostislav Shaposhnikov started monitoring traffic police cars after his girlfriend was pulled over and fined. She said the fine was unfair.
Since then the group has grown to scores of activists across the country and has angered police by posting videos which they say show officers extorting and accepting bribes.
The group also claims to have exposed a scheme during which police tow cars to private parking spots purportedly owned by people affiliated with police. After the car owners spend days trying to contest fines, they are reportedly slapped with huge parking bills.
Burlakov said police are investigating cases of alleged bribe-taking, but he denied the existence of the parking scheme.
Shaposhnikov was brutally beaten last spring by two assailants outside Kiev, and his group accused police of the attack. But a police investigation has been inconclusive.
Last month, Road Control said one of its activists was given asylum in the United States because of the risks connected with his activities. The U.S. Embassy said it does not discuss asylum cases.
Member Andriy Dzindzya was arrested this month on suspicion that he organized violent clashes with police outside Yanukovych's office on Dec. 1. Dzindzya denies any wrongdoing, saying he was merely filming the events for the group's website.
His lawyer, Viktor Smaliy, was jailed after allegedly trying to attack a judge during Dzindzya's hearing. Smaliy has denied the charge.
Several days later, activist Svitlana Malitska was attacked in the elevator of her apartment building by two men who beat her and threatened her for her work with the group. "It was a direct threat to my professional activity," Malitska said.
Then came Maralov's attack last week.
He said his car was stopped on Saturday and he was forced into the backseat by two men wearing civilian clothes, who then drove to a wooded area. Maralov, whose works as a bodyguard, said he fired his weapon at one of attackers, wounding him in the shoulder.
The other assailant, however, allegedly grabbed the weapon and eventually shot Maralov after he refused to provide information about his group and its leaders.
"I felt blood flowing out of me and I simply collapsed," Maralov said in an interview outside a police station in Kiev, where he was due for questioning. When Maralov came to, he saw that his car had been set on fire, he said.
Oleksandra Matveichuk, head of the Center for Civic Freedoms, said the harassment of the activists goes to the heart of the anti-government protests that have entered their second month in Kiev and elsewhere in Ukraine.
"Here we are witnessing clear politically motivated persecution in various ways," Matveichuk said.
"If people who defend human rights are attacked ... it means we can no longer speak of any democracy. The line has been crossed."