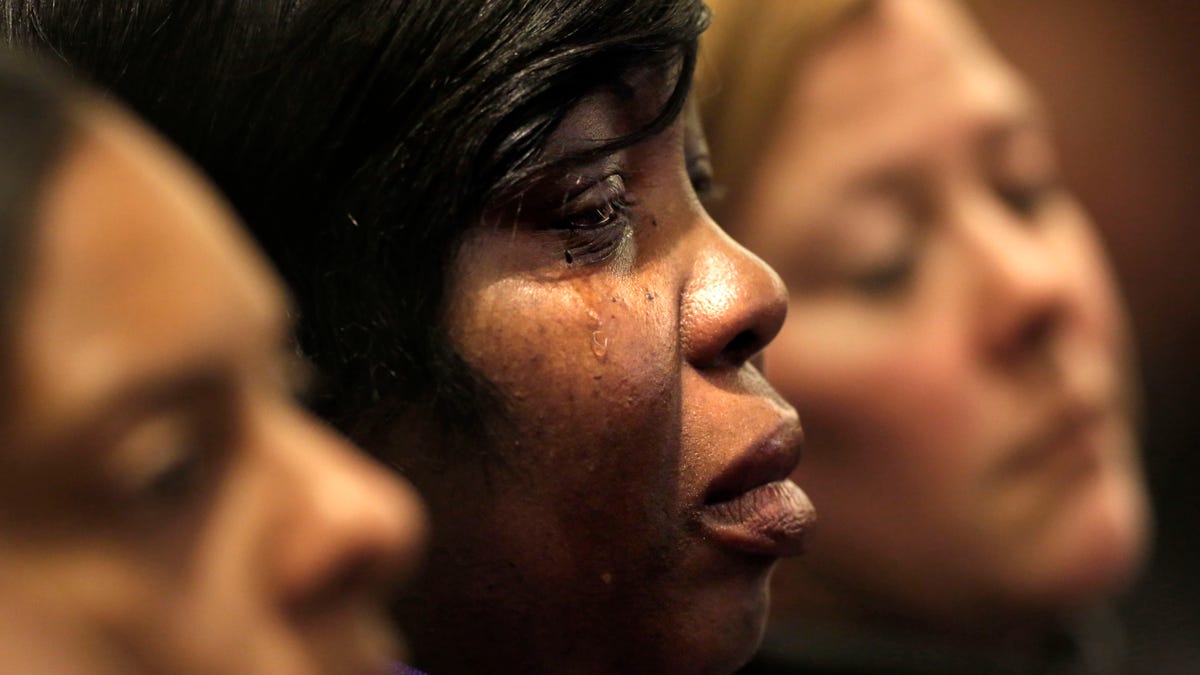 FALL RIVER, Mass. (AP) – The mother of the man former New England Patriots standout Aaron Hernandez is accused of killing was overcome with emotion Friday as a prosecutor showed the jury graphic photos of her son's body at the industrial park where he found.
For a second straight day, Ursula Ward left the courtroom in tears as prosecutors in Hernandez's murder trial displayed photographs of her son Odin Lloyd's body. Lloyd was shown lying on his back with his left fist curled in a ball over the gunshot wounds to his chest.
Hernandez, 25, is charged in the 2013 shooting death of Lloyd, a 27-year-old semipro football player who was dating the sister of Hernandez's fiancee. Lloyd's bullet-riddled body was found in an industrial park near Hernandez's North Attleborough home, not far from Gillette Stadium.
Hernandez — who had a $40 million contract as a tight end but was cut by the Patriots just hours after his arrest in Lloyd's slaying — could get life in prison if convicted. On Sunday, the Patriots will meet the Seattle Seahawks in the Super Bowl.
On Friday, two men who worked at a business near where Lloyd's body was found described a teenage jogger coming to their office early on the evening of June 17, 2013, then leading them down to an empty lot.
One of the men, David Swithers, said he stopped about 20 feet away and saw a man on his back.
"He was stiff and motionless. There were flies flying in and out of his nostrils," he said. "I called 911."
The judge had cautioned jurors that the images would be graphic and that they shouldn't let their emotions sway them in the case.
Opening statements Thursday offered insights into the prosecution's case against Hernandez and the defense's strategy to prove his innocence.
District Attorney Patrick Bomberg showed the jury before-and-after security video to connect Hernandez to Lloyd's killing.
He played footage that he said showed Lloyd getting into a Nissan Altima rental car driven by Hernandez, then video from the NFL player's home, taken shortly after Lloyd was killed, without Lloyd in the car.
Prosecutors say Hernandez and two of his friends drove Lloyd to the industrial park and shot him. The two friends are awaiting trial.
The prosecutor also presented an image taken off Hernandez's video surveillance system that showed Hernandez standing outside his basement, holding what Bomberg said was a gun.
He said a marijuana joint found near Lloyd's body had Hernandez's and Lloyd's DNA. Hernandez's DNA also was on a shell casing from a bullet found under the driver's seat of the rental car, Bomberg said. He told jurors that the casing was fired by the same weapon as casings found at the crime scene: a .45-caliber Glock.
Defense attorney Michael Fee told the jury that Hernandez is an innocent man "targeted" by authorities for his celebrity.
He said the evidence would show that Hernandez did not kill Lloyd and did not ask anyone to do so. He said authorities could offer no motive for the killing.
Noting that Hernandez had long-term football contract, a new house, a fiancee and a 7-month-old baby, the defense attorney said Hernandez "was planning a future, not a murder."
In a separate murder case that has yet to come to trial, Hernandez was charged last year in Boston with killing two men in 2012 after someone spilled a drink on him at a nightclub. The judge has ruled that prosecutors in the Lloyd case cannot tell the jury about those slayings.