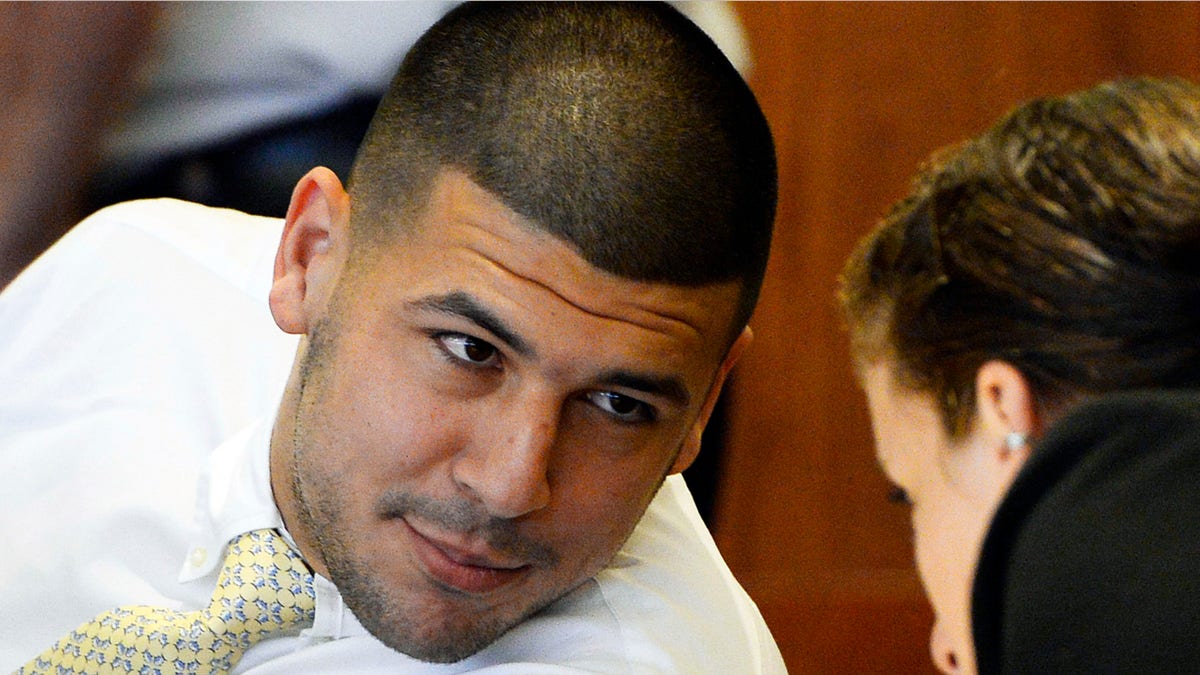 FALL RIVER, Mass. (AP) – The murder trial of former New England Patriots star Aaron Hernandez is expected to take six to 10 weeks, prosecutors said Monday, at what is likely to be the former NFL star's final hearing before trial begins next month.
Dressed in a dark blazer, Hernandez joined his defense team in Bristol County Superior Court for a hearing that focused on issues related to seating the men and women who will hear his case. Jury selection is scheduled to start Jan. 9.
Family members of Odin Lloyd, who Hernandez is charged with killing in June 2013, also were in attendance. Hernandez has pleaded not guilty to killing Lloyd, a semi-professional football player who was dating the sister of Hernandez's fiancee.
Prosecutors said they expect jury selection to take about 10 days and call about 45 witnesses at trial.
Hernandez's attorney, Michael Fee, said he was concerned about potential jurors already being familiar with Hernandez's other alleged crimes, including the killings of two men outside a Boston nightclub and unlawful possession of firearms, which the judge has ruled cannot be admitted as evidence in the Lloyd case.
Judge E. Susan Garsh on Monday reviewed proposed questions for the jury questionnaire. Some 70 questions, which have not been made public, have been submitted by prosecutors and defense lawyers.
Earlier this month, Garsh ruled that prosecutors cannot talk about the Boston killings, which prosecutors suggest may have been part of Hernandez's motivation for killing Lloyd.
Garsh also has ruled that prosecutors cannot submit as evidence the final text messages Lloyd sent his sister, including one sent just minutes before he was fatally shot at an industrial park near Hernandez's North Attleborough home.
Prosecutors say Lloyd sent the messages while in a car with Hernandez and suggested they showed he had become fearful. One said, "U saw who I'm with" and another indicated the person was "NFL," adding "just so u know."
Garsh also has ruled that prosecutors cannot introduce the shooting of Alexander Bradley, a former Hernandez associate who has filed a lawsuit claiming the ex-player shot him in the face after an argument in Florida in 2013.
Hernandez's fiancee, Shayanna Jenkins, appeared earlier Monday for a brief hearing. She has pleaded not guilty to lying before a grand jury that ultimately indicted Hernandez.