Philippines' Duterte orders female communist fighters shot in the genitals, reports say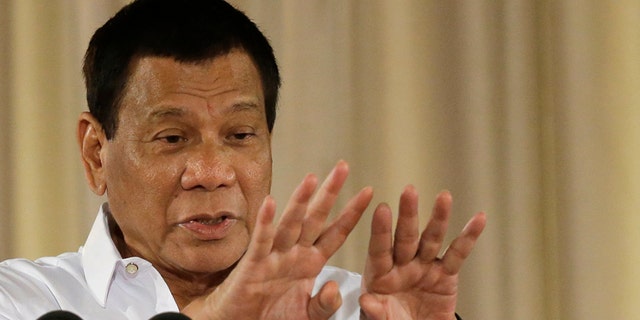 Philippine President Rodrigo Duterte last week bragged that he had ordered troops to shoot female communist fighters in their vaginas, according to multiple reports, triggering a wave of criticism against the strongman when the remark was published Monday.
"Tell the soldiers, 'There's a new order coming from the mayor,'" Duterte, a former mayor, told an audience of approximately 200 former rebels in Malacañang. "We won't kill you. We will just shoot your vagina.'"
"If there is no vagina, it would be useless," Duterte added to laughter from the crowd, according to local reports.
The remarks were largely unreported until Monday because Duterte was speaking in his native language, the New York Times reported.
In its official transcript of the speech, Duterte's communication office replaced the word "vagina" with a dash.
Once it was widely publicized, Duterte's speech drew widespread condemnation, with critics charging that the leader's penchant for offensiveness is no longer surprising.
"He has further presented himself as the epitome of misogyny and fascism rolled in one."
The comment "is just the latest in a series of misogynist, derogatory, and demeaning statements he has mad about women," Carlos H. Conde, a Human Rights Watch researcher, told the New York Times.
Conde added that encouraging state forces to sexually assault women during a conflict violates "international humanitarian law."
Reaction in the Philippines was also swift. Congresswoman Emmi de Jesus, representing the Gabriela Women's Party, said that Duterte was a "macho-fascist" who endorsed "state terrorism" against women, the Guardian reported.
"He has further presented himself as the epitome of misogyny and fascism rolled in one," she added.
Duterte, who once said that a gang rape victim was so "beautiful" that he wished he had "been first," has sanctioned a wide-scale drug war marked by extrajudicial killings in the Philippines.
Last week, the prosecutor of the International Criminal Court said she is opening an investigation into alleged crimes by security officers in the Philippines.
Duterte has reportedly said he would not mind being imprisoned by the ICC as long as he was allowed conjugal visits from more than one women.