Pakistan to release captured Indian pilot in effort to defuse Kashmir conflict
Pakistan's prime minister promised on Thursday to release a captured Indian jet fighter pilot the following day in an effort to defuse the tense confrontation between the two nuclear-armed nations over the disputed region of Kashmir.
Imran Khan told the country's parliament that he reached out to his Indian counterpart Narendra Modi on Wednesday with a peace offering to de-escalate the tensions that have once again brought the two neighboring countries to the brink of war.
"We are releasing the Indian pilot as a goodwill gesture tomorrow," Khan said, without mentioning whether the release was conditional.
"We are releasing the Indian pilot as a goodwill gesture tomorrow"
INDIA-PAKISTAN TENSIONS WILL ONLY DIE DOWN WHEN BOTH SIDES 'CAN GO BACK TO THEIR PEOPLE AND CLAIM VICTORY', EXPERTS SAY
It remains unclear whether India will accept the move, especially in the wake of Modi's rhetoric that ramped up the tensions, saying that "India's enemies are conspiring to create instability in the country through terror attacks."
Yet the release of the pilot, named as Wing Commander Abhinandan Varthaman, may be just enough for both countries' governments to appear victorious in the eyes of their people and stop the escalation.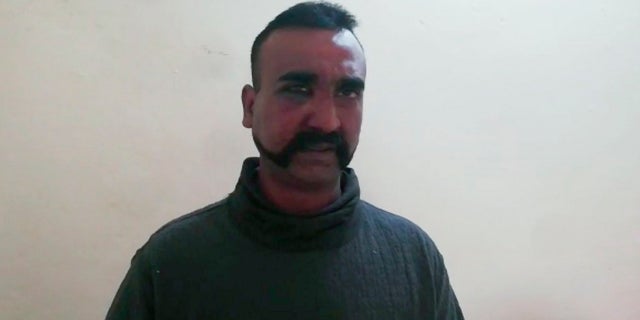 "Both sides will quit when they feel like they can go back to their people and claim victory," Richard Rossie, senior adviser and Wadhwani chair at the Center for Strategic & International Studies told Fox News.
Khan's promise to release the pilot came after his initial plea to stop the confrontation that likely didn't make much of an impact in India, especially given the tense relationship between the two nations over the years.
"In India, they are going to hear that and say, 'Give us a break. You guys say that all the time," Alyssa Ayres, a senior fellow for India, Pakistan and South Asia at the Council on Foreign Relations said on Wednesday after Khan's first offer to "sit down and talk."
PAKISTAN SHOOTS DOWN 2 INDIAN WARPLANES, PARADES CAPTURED PILOT ON VIDEO
World powers have been watching the situation in Asia unfold with unease and called for de-escalation after a Feb. 14 suicide bombing killed over 40 Indian paramilitary troops in Kashmir in the territory it controls.
The Indian government retaliated with an air strike on Tuesday inside Pakistan, the first such strike since the 1971 war between the two countries over the territory that later became Bangladesh.
On Wednesday, Pakistan said it shot down two Indian aircraft. It later aired a video of a man it identified as the Indian pilot, further infuriating the Indian officials.
India's Ministry of External Affairs said that it "strongly objected to Pakistan's vulgar display of an injured personnel of the Indian Air Force," and that it expects his immediate and safe return.
The fight over Kashmir dates back to 1947 when Britain granted independence to the region. It divided the Indian subcontinent into a predominantly Hindu India and mostly Muslim Pakistan.
CLICK HERE FOR THE FOX NEWS APP
Both India and Pakistan are believed to possess more than 100 nuclear warheads each and have conducted atomic weapon tests. Both countries have test-fired nuclear-capable missiles.
Pakistan also has refused to renounce a first-strike option with its atomic bombs should it feel outgunned in a conventional war. It takes less than four minutes for a missile fired from Pakistan to reach India.
Fox News' Barnini Chakraborty and the Associated Press contributed to this report.