Pakistan Jails Five Americans for Terror Plot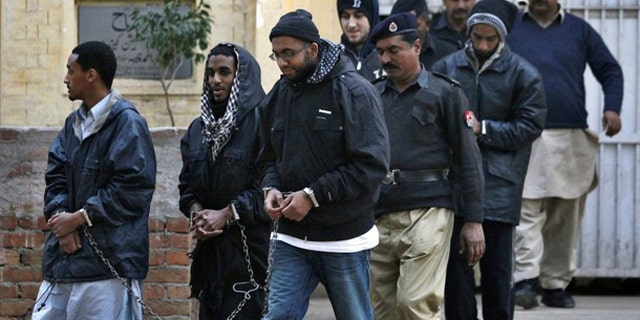 SARGODHA, Pakistan -- Five American men were convicted Thursday on terror charges by a Pakistani court and sentenced to 10 years in prison in a case that has heightened concerns about Westerners traveling to Pakistan to contact al-Qaida and other Islamist extremist groups.
The trial of the young Muslim men from the Washington, D.C., area was sensitive for the U.S., which has a duty to ensure justice for its citizens abroad but also has pushed Pakistan to crack down on militancy.
Prosecutors said e-mail records and witness statements proved the men used the Internet to plot terror attacks in Pakistan and nations allied with it. The father of one of the men said they were in Pakistan to attend his son's wedding, but had intended to cross into Afghanistan for humanitarian work.
The verdict comes the same week Pakistani-American Faisal Shahzad pleaded guilty to trying to bomb New York's Times Square in May after getting training by the Taliban in Pakistan's tribal areas.
The judge on Thursday handed down two prison terms for each man, one for 10 years on a criminal conspiracy charge, and the other for five years on the charge of funding banned organizations for terrorism. A copy of the decision seen by The Associated Press said the terms were to be served concurrently.
The men, all in their 20s, had faced up to life in prison. They were acquitted of three charges, including planning to wage war against the U.S. and Afghanistan -- allies of Pakistan.
The men said nothing when the verdict was read out, Deputy Prosecutor Rana Bakhtiar said. Previously, the men claimed they were tortured by Pakistani police and FBI agents, charges denied by authorities here and the U.S. Their lawyers said they would appeal the case.
The trial moved with unusual speed in a country where cases often drag out for years and where terror convictions are rare and often overturned on appeal. The trial was closed to journalists and observers and was heard by a single judge in a special anti-terrorism court.
The men have been identified as Ramy Zamzam of Egyptian descent, Waqar Khan and Umar Farooq of Pakistani descent, and Aman Hassan Yemer and Ahmed Minni of Ethiopian descent. They were reported missing by their families in November after one left behind a farewell video showing scenes of war and casualties and saying Muslims must be defended.
Umar Farooq's father, Khalid Farooq, called the verdict "a great disappointment" and insisted the men had not planned to fight in Afghanistan, but had wanted to do humanitarian work such as helping orphans. The men also wanted to see Umar get married in Sargodha, the father said.
The men were arrested at Farooq's home in Sargodha after he said he told them to avoid Afghanistan. Khalid Farooq, an American of Pakistani descent who also has a home and business in Alexandria, Virginia, was held for 20 days.
"I will right away go to the high court, even to the International Court of Justice, to get these innocent youths justice," said Farooq, who was not allowed to watch the trial. "I have not had a chance to see my son or the other fellows. I hear they are very frustrated and need to be consoled."
"It was not a fit case for conviction," defense lawyer Hassan Dastghir said. "I am confident that we will win the case at appeals level."
American officials have said little in public about the trial, and on Thursday, embassy spokesman Richard Snelsire said only that the U.S. respects the decision of the Pakistani courts.
Washington is trying to counter anti-American sentiment in Pakistan's government, security forces and media, as it pushes Islamabad to flush out the Taliban, al-Qaida and other militant networks who use its territory.
A spokesman for the Council on American-Islamic Relations, which put the men's families in contact with the FBI after they went missing, said Thursday that the group is evaluating the verdict.
Other family members in the United States could not immediately be reached for comment.