Pakistan court presses Khan on alleged contempt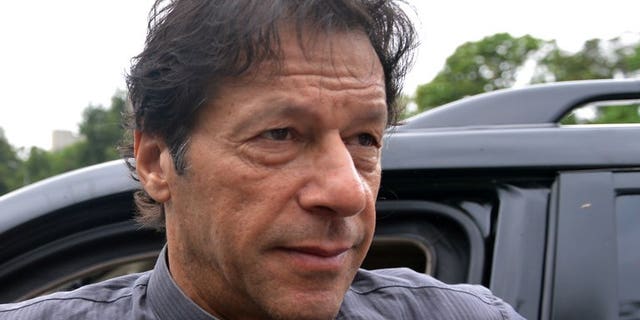 NEWYou can now listen to Fox News articles!
ISLAMABAD (AFP) – Pakistan's top court on Friday ordered cricketer-turned-politician Imran Khan to respond in more detail over allegations that he committed contempt by making derogatory remarks against the judges.
Khan, the head of Pakistan's third largest party that made a breakthrough in May elections, says the polls were rigged and criticised the judiciary and the election commission for not taking action.
The Supreme Court ordered him to appear Friday to explain what it called his "derogatory language against the Supreme Court and its judges, and a deliberate campaign to scandalise" the judiciary.
Khan defended his remarks, but the three-member bench headed by chief justice Iftikhar Muhammad Chaudhry said it was not satisfied and asked him to submit a more detailed response on August 28.
"The explanation is not acceptable. The case is adjourned until August 28," Chaudhry told Khan, directing him to submit a fresh reply before the next hearing.
Khan says the role of the judiciary and the election commission in the May 11 vote was shameful and that the elections were rigged.
Khan's Pakistan Tehreek-e-Insaf (PTI) finished third place in the polls won by Nawaz Sharif's Pakistan Muslim League-N (PML-N), but formed a government in the northwestern province of Khyber Pakhtunkhwa.
If convicted, lawyers say Khan faces up to six months in prison.
But Khan told reporters he had done nothing wrong.
"I have not done anything wrong... why should I apologise?" he said outside the court.
"I have not said anything which can lead to the punishment. I can't use such words for the superior judiciary, I referred to the returning officers who conducted elections," he said.
Pakistan's previous government accused the judiciary of politically motivated meddling when it sacked prime minister Yousuf Raza Gilani after finding him guilty of contempt.
Gilani was convicted for refusing to write to Swiss authorities asking them to re-open corruption cases against President Asif Ali Zardari on the grounds that he had immunity as head of state.