Oregon woman lives nightmare behind bars in East Timor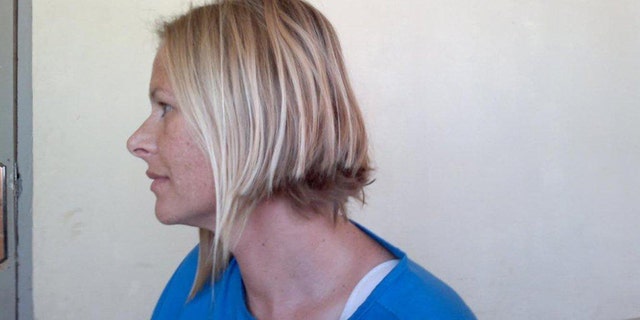 When Stacey Addison left Portland, Ore., in September for a solo journey around the world, she was anticipating adventure. What she got was a nightmare with no end in sight.
The 41-year-old veterinarian is sitting in a jail cell in East Timor, the victim of a legal misunderstanding that poses daunting diplomatic challenges to the U.S. and anguish and heartbreak to her family and supporters. Political turmoil in the Southeast Asian nation and a murky explanation of the case against her has left no indication of when Addison might be released.
"We seek a prompt and transparent resolution to this case and that Dr. Addison be afforded all due process in accordance with Timorese law," U.S. State Department spokeswoman Jen Psaki said this week.
Addison's visit to East Timor was to be a highlight of a series of trips around the world. A graduate of University of California-Berkeley and UC Davis, she lived frugally, and sold her car and most of her possessions ahead of her trip. She looked forward to seeing the area's exotic animals and meeting doctors in the same line of work. She had already been to Antarctica and parts of Europe. After a brief visit home, Addison resumed her trip in March.
[pullquote]
"She got the travel bug when she was in college," said Addison's mother, Bernadette Kero. "Stacey isn't married, and has traveled alone throughout the world. She saved and planned for this trip for two years."
But Kero says that on Sept. 5, her daughter was in the wrong place at the wrong time, and got entangled in a drug bust.
As she crossed the border from Indonesia into East Timor, Addison shared a cab with a stranger also headed to the capital city of Dili. The passenger had the cab stop at a DHL office, where he picked up a package that allegedly contained meth. Police moved in, arrested everyone in the car, and Addison spent five days in jail. When she was released on Sept. 9, authorities said their investigation was continuing, and Addison, who has no criminal record, was eager to cooperate. Her urine test came back negative for drugs, and her computer records were clean. She was granted "conditional release," meaning she could travel freely throughout East Timor, but could not get her passport back. She hired a lawyer and soon learned that such investigations could take up to a year.
[image]
With the help of friends in Oregon and California, Addison set up a Facebook page, "Help Stacey," and regularly posted pictures and updates. She tried to remain upbeat, but in a Skype interview on Oct. 16, Addison admitted she was lonely and frightened, and was becoming depressed at the slow pace of her case. East Timor only became recognized as an independent nation in 2002, and its legal system is still evolving, according to international legal experts.
On Oct. 18, Addison posted her thoughts on the "Help Stacey" page.
"I am trying to keep busy and keep the anxiety at bay, but the uncertainty is always there in the back of mind - gnawing away at any attempt at peace of mind," she wrote. "This isn't how I had imagined I would be spending my time during the trip of a lifetime. I hope it is all over soon."
Several members of Congress tried to intervene, including Oregon Sen. Jeff Merkley.
"We are in continual communication with the State Department and they are taking all appropriate action to respond," a spokesperson for the Democrat told Fox News in an email. "Senator Merkley and his staff will continue to do everything we can to assist Ms. Addison and her family through this terrible situation."
And, during his visit to East Timor on Oct. 7, Rep. Darrell Issa, (R-Calif.), discussed the case with senior government officials. A picture of that meeting is posted on "Help Stacey." Without revealing details, officials with the U.S. State Department and U.S. Embassy in East Timor said they were closely monitoring the case.
Addison's lawyer, Paul Remedios, filed an appeal to get her passport back. But there was no immediate ruling, and during her conditional release, Addison was never questioned by prosecutors. Then, two weeks ago, the case suddenly stalled.
"The prosecutor on my case was fired yesterday," Addison posted on Oct. 28. "I do not know when a new one will be appointed. No prosecutor means no investigation, means no passport for me."
Within hours, she was back behind bars.
Addison's lawyer told her their appeal to retrieve her passport had been denied, and later on Oct. 28, Addison went to the courthouse to get a copy of the denied petition. While she was there, she learned a warrant was out for her arrest, and authorities took her into custody on the spot, with no explanation. No charges have been made public, and repeated calls to the Ministry of Justice have not been returned.
Addison is now at Gleno women's prison, about an hour away from the city of Dili. She shares a cell with several other women, including one who just gave birth and has the baby with her.
"I would not say she is happy," Remedios said in a phone interview. "She is not. But she's strong and knows we are doing all we can to help her."
He says he is filing an appeal this week, and hopes to get a ruling within 10 days that Addison's incarceration is illegal.
"Her human rights were violated," Remedios said. "According to our national laws there is a miscarriage of justice in the making."
Under Timorese law, suspects - and their lawyers - have a right to know when and why an arrest is imminent, Remedios said, adding that he is still trying to get a copy of the arrest warrant.
Addison has been visited by staff members from the U.S. Embassy, who brought her books and a birthday cake. This week, she is also scheduled to meet with the former president of East Timor, Jose Ramos Horta, who has been advocating on her behalf.
But recent developments in the Timorese government have contributed to the confusion surrounding this case. Last Friday, the National Parliament of East Timor fired all the foreign judges and advisers in its justice system. According to Addison's lawyer, the mass firings included the international prosecutor handling Addison's case. Remedios says while there are other prosecutors in East Timor, he does not know who is handling their case now, adding that he himself cannot get straight answers.
[image]
"We're trying to find out if a new prosecutor has been appointed, but we could not get a response from the court," Remedios said. "They're in a situation of panic."
In the meantime, Addison and her supporters are working to put pressure on the Obama administration and Congress to win her release, and to confirm Karen Stanton, a career diplomat, as U.S. Ambassador to East Timor.
Addison's mother says reaching a resolution is more difficult without a U.S. ambassador there.
"East Timor has not had an ambassador in well over a year," said Kero. "We were told that the highest level Timorese officials would be more likely to talk with a U.S. Ambassador in place."
But the waiting, she says, is agonizing.
"It's been nightmare, all this uncertainty, and especially now with this latest development," the despondent mother said. "I just want our government to do all they can so that my daughter, an innocent American citizen, is freed."