'Not guilty' plea entered in L.A. by 2 Colombians accused of smuggling 3 tons of cocaine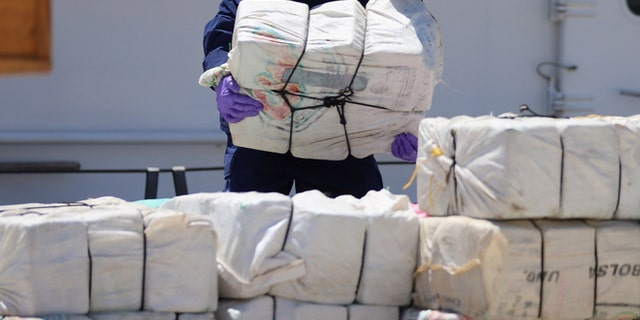 LOS ANGELES (AP) – Two Colombian men have pleaded not guilty in Los Angeles to charges that they conspired to smuggle $72 million worth of cocaine into the United States.
City News Service says Dicson Penagos-Casanova and Juan Gabriel Rios Sierra entered pleas Wednesday to charges that could send them to federal prison for life.
Prosecutors say the men arranged to have tons of cocaine hauled from Colombian labs to clandestine airstrips in Venezuela. The drug was then packed aboard jets and flown to Central American hubs for further distribution in the U.S. and Mexico.
But authorities say one plane was shot down by the Venezuelan Air Force last year and another crashed.
Dicson Penagos-Casanova, 36, and Juan Gabriel Rios Sierra, 34, allegedly handled at least $70 million worth of cocaine that was seized by authorities after planes carrying the drugs crashed, the U.S. attorney's office said.
The men were extradited to Los Angeles from Colombia on Tuesday and could face up to life in federal prison if convicted of conspiracy and cocaine possession charges.
It wasn't immediately clear whether they had obtained attorneys.
An indictment unsealed Tuesday contends that Penagos and Rios arranged for cocaine processed in laboratories outside Meta, Colombia, to be shipped to underground storage facilities near clandestine airstrips in Venezuela.
According to the indictment, the cocaine was put aboard jets obtained through straw purchasers, and Venezuelan military and government officials were bribed to allow the planes to move through that country.
The cocaine would be flown to Central American hubs where it would be off-loaded for smuggling to Los Angeles, other U.S. points and Mexico, prosecutors contend.
Two planes that crashed last year were carrying 2,880 kilograms (about 3.2 tons) of cocaine valued at $72 million on the black market, authorities said. One plane was shot down in January 2015 by the Venezuelan Air Force after takeoff, and Dutch law enforcement later recovered packages of cocaine that were floating near Aruba, authorities said.
Another drug jet had engine failure and crashed that May in the Caribbean Sea off of Colombia, authorities said.
"By taking key players out of commission, we are disrupting the drug cartels' ability to import their dangerous narcotics into our country," U.S. Attorney Eileen M. Decker said in a statement. "These defendants' arrival in the U.S. for prosecution marks a significant victory for law enforcement here and in Central and South America, which have worked in concert to ensure justice is achieved in this case."