Report: Rubio asked FL officials to grant real estate license to ex-convict relative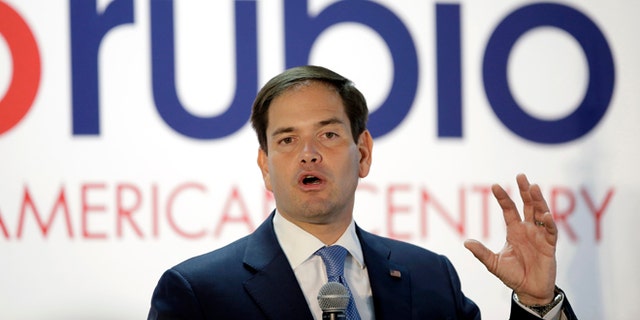 While serving as the majority whip of the Florida House of Representatives in 2002, Marco Rubio used his political connections to push for state officials to grant his brother-in-law – a convicted cocaine trafficker – a real estate license, newly discovered records show.
The records, obtained by the Washington Post under the Florida Public Records Act, reveal that the current Republican presidential hopeful mixed his political and personal life early in his career to help out a troubled relative.
The letter, from July of 2002 and written to the Florida Division of Real Estate on Rubio's official statehouse stationery, asks that Orlando Cicilia be granted a license "without reservation" despite the fact that he is a convicted cocaine trafficker who had been released from prison 20 months earlier.
The letter made no reference to the fact that Cicilia was married to Rubio's sister, Barbara, or that they were living at the time with Rubio's parents. He only wrote that he had known Cicilia "for over 25 years."
Despite the fact that Cicilia still lives in the same home as Rubio's mother and has appeared at campaign events for his brother-in-law, the Republican presidential candidate has declined to talk about his relationship with Cicilia or his drug conviction.
Rubio has also decided not talk about whether or not he has had any financial dealings with Cicilia. PACs and campaigns affiliated with Rubio, including his current presidential campaign, have paid Cicilia's two sons more than $130,000 over the past decade.
"Orlando made some very big mistakes almost 30 years ago, served his time and has paid his debt to society," Rubio's presidential campaign adviser, Todd Harris, said in an e-mail to the Post. "Today he is a private citizen, husband and father, simply trying to make a living. It is appalling and shameful that the Washington Post continues to drag him into the spotlight."
Harris added that Rubio was only 16 years old when Cicilia was arrested, and that the incident was a private family matter.
Cicilia was convicted in 1989 in a high-profile case for distributing $15 million worth of cocaine. The federal government seized his home, but the money he made in drug trafficking has never been found.
Rubio's campaign defended the choice to not mention that Cicilia was a relative in his recommendation.
"Marco has recommended scores of Floridians for various professional positions, and, after Orlando paid his debt to society, Marco was happy to recommend him as well," Harris said. "He believed Orlando should be judged on his own merits and felt it would be highly inappropriate, and could be perceived as exerting undue pressure, if his letter stated that Orlando was a relative."
The recommendation by Rubio was not illegal, but some experts say that it is troublesome.
"Someone who serves their time should be a productive member of society, and it's important for families to help each other – but it's wrong to use your public office for personal or private gain," Danielle Brian, executive director of the Project on Government Oversight, a government watchdog group in D.C.+, told the Washington Post.
Florida does not forbid felons from holding real estate licenses the way some states do. The applications are considered on a "case-by-case basis" by seven members of the Florida Real Estate Commission who are appointed by the governor. At the time, Rubio's mentor and current GOP presidential rival Jeb Bush was the governor.
While Rubio has declined to speak about the matter, he did mention Cicilia in his 2012 memoir, "An American Son." Rubio wrote that he remembered taking care of Cicilia's dogs in order to earn money to buy tickets to a Miami Dolphins game.
Like us on Facebook
Follow us on Twitter & Instagram