'Heavy' shoes blow cover of Juarez woman attempting to smuggle cocaine into U.S.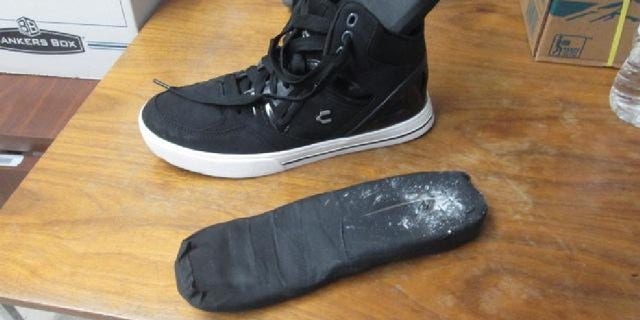 EL PASO, Texas – A Juarez woman tried to sneak 1.32 pounds of cocaine in her shoes at a local port of entry.
Authorities said the seizure was made around 7 p.m. Monday at the Ysleta international pedestrian inspection area.
Laura Valeria Ramirez, 23, was selected for a secondary exam, and U.S. Customs and Border Protection officers noticed that her shoes seemed unusually heavy, officials said.
"CBP officers will sometimes encounter people who try to smuggle drugs in their shoes," said Severiano Solis, acting CBP El Paso port director. "Our attention to detail stopped this drug smuggler in her tracks."
The inner soles of the shoes appeared thick and bulky and officers X-rayed the shoes, officials said.
Hidden inside the soles was a white powder that tested positive for cocaine.
Ramirez was turned over to federal agents to face charges in connection with the smuggling attempt.
For more stories like this go to: KFOX14
Like us on Facebook
Follow us on Twitter & Instagram