North Korean farmers face dry fields amid drought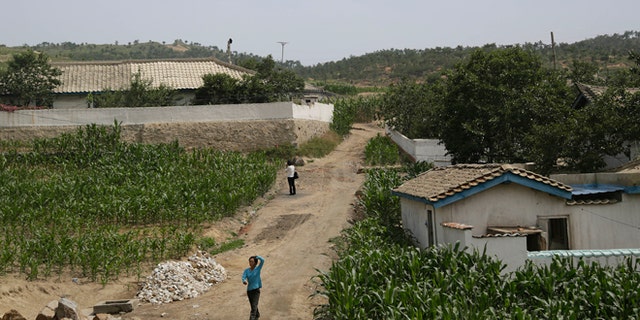 UNPHA, North Korea – North Korean farmers work to pump underground water into parched fields. Instead of rice seedlings standing in flooded paddies, the baked earth is cracked. A big lake that used to supply surrounding farmland with water is almost completely dry.
There has been almost no rain in this part of the country, an hour's drive from the capital Pyongyang and one of the country's main rice-growing regions, according to farmers and local officials interviewed by The Associated Press. While the situation in this area visited by the AP looks grim, it is unclear how severe the drought is in the rest of the country.
"Because of the drought continuing from last year, lots of land has been damaged," said Sin Ung Hyon, chairman of the Unpha County Farm Management Committee.
North Korea severely limits outside access, so state media's recent claim of the worse drought in a century has faced widespread skepticism. Pyongyang, eager for the possibility of outside assistance, has used similar phrasing to describe past droughts, and officials in rival South Korea have said there's no way to confirm exactly what's happening.
North Korean authorities agreed to a request by the AP to revisit this area, which the government had highlighted previously as particularly hard-hit. An AP video journalist was accompanied by local officials.
Outsiders worry that that there could be trouble ahead for the country, which has a long history of poverty and mismanagement. Critics say the authoritarian government is more willing to spend huge sums of money on its missile and nuclear programs than on infrastructure and basic welfare.
The United Nations has warned that the lack of rain this year could cause further hunger. Hong Yong-pyo, South Korea's minister of unification, told lawmakers this week that Seoul was willing to consider providing aid to North Korea to help with the drought, although Pyongyang has yet to make any official aid request.
Farmers interviewed in this part of North Korea said they are turning away from rice farming, and are planting corn and trying to tap underground water sources to keep what rice seedlings there are wet and healthy. But no rain would mean grim prospects even for the corn.
"With the hardship this year, farmers have a lot of difficulties in trying to make the farm work, because we haven't had this kind of experience before," said Kim Gyong Nam, a work team leader at Unpha town farm. "This year, because of the severe drought, we could not do rice farming, so we ploughed the land again and had to plant corn."
Jane Howard, a spokeswoman for the World Food Program in Rome, said North Korea has faced water shortages since late last year because of low rain and snowfall. This could cause serious problems later this year because so much of the country's food production normally comes from crops planted from June to July.
Seoul's Unification Ministry said that North Korea's rice and potato production could decline by as much as 20 percent compared to average years should the rain shortage continue. While North Korea's precipitation last year was its lowest since 2000, the country avoided a significant drop in food production because of its strong supply of irrigation water and the lack of floods in the summer, the ministry said.
North Korea's food production is regularly affected by droughts or floods that expose the inefficiencies of its agricultural system, which is heavily reliant on foreign aid, artificial irrigation and terraced fields that are vulnerable to torrential rain.
A devastating North Korean famine during the mid-1990s is believed to have killed hundreds of thousands of people, though the exact number is disputed. The famine may have also loosened the state's strict control over the economy by damaging its public food distribution system and paving the way for private economic activity in unofficial markets.