North Korea suspected source of 'mad dog' Trump leaflets

First, there was "little rocket man." Now, Kim Jong Un has returned fire in the nickname game with "mad dog Trump."
Pro-North Korean propaganda posters likening the U.S. president to a raging dog have begun popping up across the South Korean capital, Reuters reported Monday, citing social media posts and people that found them.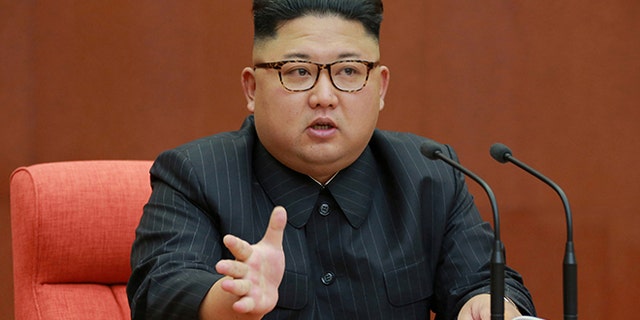 "Let's behead mad dog Trump for the future of a peaceful and warless world and mankind!" one bizarre poster pleads, showing the body of a dog with Trump's head, being decapitated by an axe.
"Death to old lunatic Trump!" read another, which showed a North Korean soldier stomping on a head that appears to be Trump's.
"Death to old lunatic Trump!"
Trump last month excoriated the North Korean regime during his speech to the United Nations General Assembly, saying of dictator Kim Jong Un, "Rocket Man is on a suicide mission for himself and for his regime."
UN SPEECH: TRUMP SAYS 'ROCKET MAN' ON A 'SUICIDE MISSION'
Trump added North Korea's "reckless pursuit of nuclear weapons and ballistic missiles threatens the entire world with unthinkable loss of human life." North Korea continues to defy the U.N. with prohibited nuclear and missile tests.
North Korean military images and propaganda are common in the South, Reuters reported. The Hermit Kingdom has repeatedly demanded the U.S. cease preparations for an invasion it believes is coming and also has the ultimate goal of reunifying the Korean peninsula under one government -- Kim Jong Un's.
"I am pretty sure it came from North Korea by balloon, since the prevailing winds during October have been from north to south and we've been getting reports of others finding them throughout Seoul," said managing director of Seoul-based news service NK News Chad O'Carroll, who found some of the posters while jogging.