New Macedonia parliament head takes office days after riot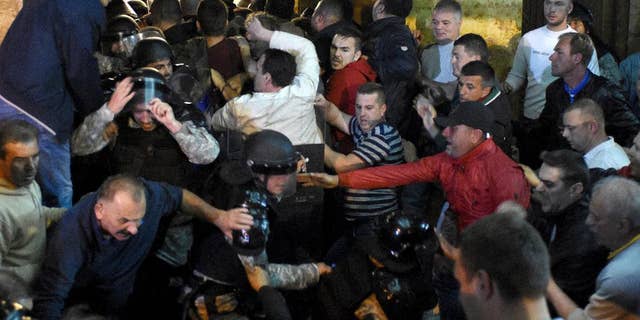 SKOPJE, Macedonia – Macedonia's new parliament speaker has taken office six days after his election prompted some angry protesters to storm the floor of parliament and attack several lawmakers.
Talat Xhaferi, an ethnic Albanian, said Wednesday he would formally ask President Gjorge Ivanov to hand left-wing opposition leader Zoran Zaev the mandate to govern as prime minister.
Zaev's party placed second in a December parliamentary election, behind the conservatives who previously governed. Unlike the conservatives, he has struck a coalition deal with small ethnic Albanian parties.
The president earlier refused to give Zaev the mandate, saying Zaev's pledge to consider enhancing the ethnic Albanian minority's standing would undermine Macedonia's sovereignty. Ivanov has 10 days to answer the new request.
Demonstrators protesting Xhaferi's election as parliament speaker rioted in parliament last week, injuring 100.