NATO, Russia to Cooperate in Afghan War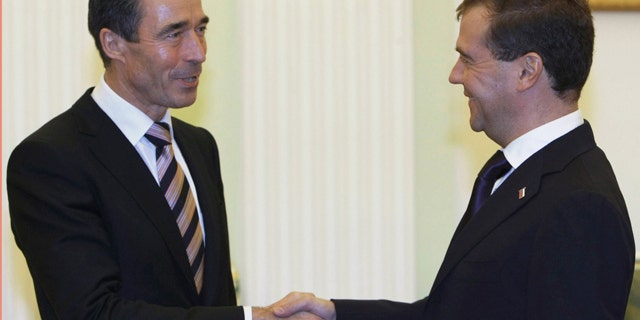 BRUSSELS – NATO and Russia are ready to conclude a series of agreements designed to boost cooperation in the Afghan war, NATO's chief and a senior U.S. official said Monday.
These include expanding the current arrangement that enables NATO to ship non-lethal supplies from Europe to Afghanistan overland through Russia, NATO Secretary-General Anders Fogh Rasmussen said.
"At the summit ... I would expect a decision to expand the current transit arrangement, so that it would allow for the so-called reverse transit. We are also discussing what kind of non-lethal cargo could be transported," Fogh Rasmussen said.
The leaders of NATO's 28 nations will meet in Lisbon, Portugal, on Friday and Saturday for their annual summit. They will be joined by the premiers of the 20 other nations contributing units to the international force in Afghanistan, and by those from Japan and Russia.
Other major issues on the agenda are a proposed missile defense system for Europe and NATO's new mission statement to replace the one adopted in 1999.
The summit is expected to focus on the war and on the launch early next year of the transfer of responsibility for security to Afghan government forces in some parts of the embattled country. The plan is to complete the handover by 2014.
The alliance already uses transit routes through Russia and neighboring Central Asian states as an alternative to its main, ambush-prone logistics line through Pakistan. But current arrangements allow only for the one-way transport of non-lethal supplies such as food and fuel.
The transit accord highlights the improving ties between the former Cold War rivals in the Afghan war, where the U.S. and NATO already have about 150,000 troops. Russia, which fears the expansion of Islamic extremism along its southern borders, has refused to deploy its own forces in Afghanistan, but has offered to help NATO's war effort.
"My strong sense is that Russia shares our view that the time has come to stop worrying about each other and work together. And we will," Fogh Rasmussen said. He said the two would also agree to conduct a joint review of 21st-century security challenges "because we are faced with same security threats."
NATO and Russia also are expected to conclude several other agreements during the summit which will be attended by President Barack Obama and Russian President Dmitry Medvedev, said a senior U.S. official.
The two sides will establish a new counter-narcotics center in Russia to train agents from Afghanistan and other Central Asian nations, and set up a scheme to finance future training of Afghan air force personnel, the U.S. official said on condition of anonymity under regulations.
Moscow has repeatedly expressed concerns over the sharp increase in drug smuggling from Afghanistan since the U.S.-led invasion began in 2001. It already has trained hundreds of counter-narcotics agents from Afghanistan and Central Asian at a smaller facility near Moscow.
The U.S. official said a joint trust fund would be created to finance the training of Afghan maintenance crews on the Russian-built helicopters operated by the nascent Afghan air force.