Mugabe urges Zuma to silence advisor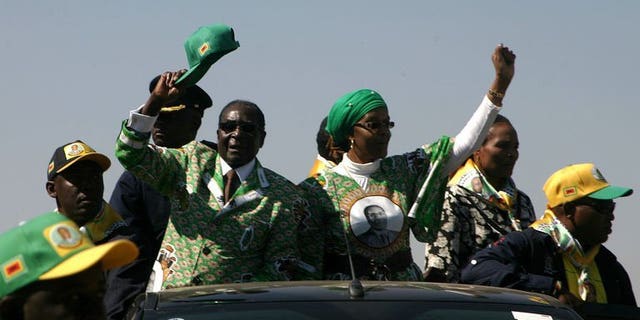 HARARE (AFP) – Zimbabwe President Robert Mugabe on Saturday warned South Africa's Jacob Zuma to stop his top mediator from commenting on the country's political crisis, as the veteran leader stepped up electioneering.
"That persistent negative voice from South Africa, could it be stopped," Mugabe told thousands of supporters at a campaign rally in the Matabeleland region.
"I appeal to President Zuma to stop this woman of theirs from speaking on Zimbabwe," said Mugabe referring to Zuma's advisor, Lindiwe Zulu.
It was Mugabe's second attack on Zuma's envoy. Earlier this month he called Zulu a "streetwoman" when he kicked off his election campaign.
Mugabe, who is running for re-election in the July 31 vote, said only Zuma had a right to speak on Zimbabwe.
"We were given one facilitator, that's President Zuma and only his voice should speak," he said. "No other voices."
Zuma is leading the Southern African Development Community (SADC) mediation team on Zimbabwe, which pushed for the crunch vote.
The regional bloc had pressed Mugabe to allow time for a series of reforms that would limit the military's role in politics and strip ghost voters from the electoral roll.
Mugabe's renewed attack on Zulu comes as the SADC peace and security organ is meeting in Pretoria to discuss the country's political crisis.
On Friday, Zulu said there were still challenges in the run-up to the key polls aimed at ending the uneasy unity rule between Mugabe and his archrival Prime Minister Morgan Tsvangirai.
With the vote due in less than two weeks, Zimbabwe is still trying to raise the $132 million budget required to fund it.
"As we go to elections, we expect our friends from the Southern African Development Community, the African Union and COMESA (Common Market for Eastern and Southern Africa) to assist us in this process by encouraging us, and where they are able to do so by materially helping us to fund the elections," Mugabe said.
The veteran leader urged the neighbouring countries to refrain from making unfavourable comments.
"We don't expect SADC countries to be spreading lies about us and telling others that the situation in Zimbabwe is not peaceful, that the ground is not even."
Meanwhile, Tsvangirai addressed a rally in the second city of Bulawayo, warning that returning Mugabe to power would be a backward move.