More people from Asia, Europe being detained at U.S.-Mexico border, feds say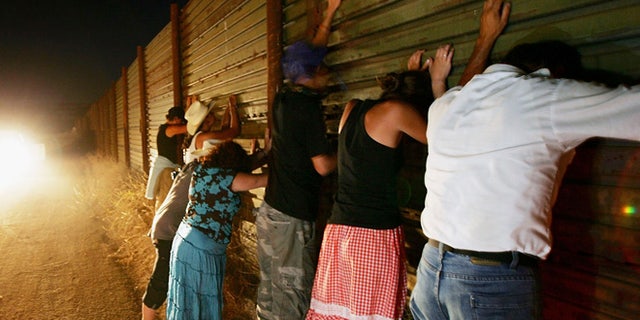 NEWYou can now listen to Fox News articles!
Mexico's porous border with the United States, which presidential candidate Donald Trump has pledged to tighten if he's elected president, has started attracting people from Asia and Europe as a way to enter the U.S., even as fewer Mexicans are being apprehended by the Border Patrol.
The agency's latest figures for the nationalities represented among those caught attempting to cross the border illegally may surprise many.
Thousands of undocumented migrants from places like India, China and Romania tried to enter the U.S. through the border in the first six months of 2016.
Although the raw numbers are still dwarfed by the tens of thousands coming from Mexico, Guatemala, El Salvador and Honduras, it does present an alarming trend. Nearly 1,500 Chinese migrants were apprehended at the border between January and June of this year, compared to a total of 48 in all of Fiscal Year 2015.
Migrants from all corners of the world are believed to be attracted by the increasingly sophisticated network of human smugglers operating in Mexico who, for a hefty sum, provide safe passage into the U.S.
"We're talking anywhere from $50,000 to $70,000 per person," Border Patrol spokeswoman Wendi Lee told the Los Angeles Times about migrants from China. "The farther you travel ... the more arrangements these criminal organizations have to make, the more expensive it will get."
The migrant crisis in Europe, which is increasing anti-immigrant sentiment there, as well as the U.K.'s decision to leave the European Union, may be causing a new group of migrants seeking to cross the border.
More than a thousand Romanians have been apprehended at the border already in 2016, and last year, a smaller number of Syrian and other Middle Eastern refugees traveling on stolen Greek passports.
Of the 264,165 people picked up by border agents in the first half of the year, a little less than half were Mexican, followed by Central America's so-called "Northern Triangle."
Here are the Top 10:
Mexico: 131,138
Guatemala: 45,604
El Salvador: 44,574
Honduras: 30,585
India: 2,867
Brazil: 1,841
Ecuador: 1,770
China: 1,498
Romania: 1,307
Nicaragua: 730
One of the most baffling details of the Border Patrol data are the 6 Canadians who tried to get into the U.S. illegally from Mexico.
The number of Mexican migrants apprehended has decreased by 42 percent in just two years – dropping from 226,771 in 2014 to 131,138 last year.
Economic and social developments appear to be the principal cause of that, with Mexico's economy growing and the country's own approach to migrants having changed vastly in recent years. Because of pressure from the U.S., the country now deports thousands of Central American migrants attempting to traverse the country to reach the U.S. every year, and, some analysts say, that seems to be changing attitudes within the country.
"Mexico didn't just create a policy of giving law enforcement more money to stop migrants," Javier Urbano, who's on the faculty of Mexico City's Ibero-American University, told FNL recently. "It gives off a message to everyone that you shouldn't migrate."
Like us on Facebook
Follow us on Twitter & Instagram