Model Tyson Beckford's Nephew Allegedly Drove Truck Into NYC Bus, Killing Driver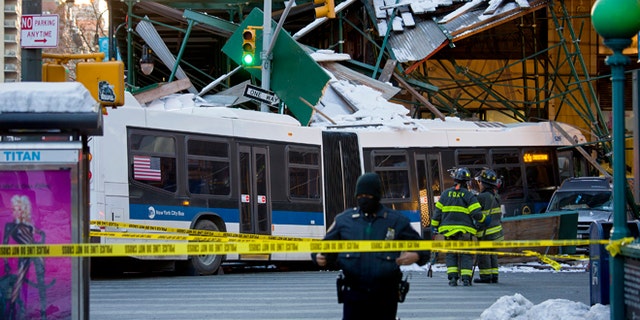 A delivery truck allegedly stolen by the nephew of actor/model Tyson Beckford slammed into a New York City bus early Wednesday morning, killing the 49-year old driver, William Peña.
Photos taken hours before the accident show Domonic Whilby—nephew of the "Zoolander" and "Biker Boyz" actor—partying with Beckford and model Shanina Shaik in New York City nightclub 1 Oak, before getting the boot from the club at around 3:30 a.m., and later after passing out on the second floor of the Dream Downtown Hotel.
"He was bothering other customers," a source told the New York Post about Whilby's ejection from 1 Oak. "He was getting too 'handsy' with other women, acting inappropriately."
Whilby was described as becoming enraged when he couldn't find the limousine that was supposed to take him home, pounding on cars in the early morning hours.
"He was sweating like a mad dog," said Victor Vega, a superintendent who turned over surveillance video to the police, according to the New York Daily News. "He started kicking and banging the doors."
Beckford's nephew is believed to have then jumped into a truck outside the Maritime Hotel in Chelsea that was making early morning deliveries. The truck sped away, ripped off a side door, ran a red light and left a large skid mark in its wake before causing the fatal accident two blocks away.
Peña was thrown from his seat of his bus and got trapped under the wheels. He was pronounced dead at the scene.
The 17-year veteran of New York's Metropolitan Transportation Authority was a resident of Hillsdale, N.Y., and was remembered by friends and family as a hard worker and devoted father who was working to put his daughter through college.
"He loved everything," Peña's brother Alex told the Post. "He was a great guy, no trouble, nothing. He was just a great guy in every way you put it. It's a tragedy this had to happen. We're grieving. It takes time. It's just begun."
Peña is the first New York City bus driver killed on the job since Edwin Thomas was stabbed to death on a Brooklyn bus in December 2008 and the first driver killed in a collision in more than 14 years.
Follow us on twitter.com/foxnewslatino
Like us at facebook.com/foxnewslatino