Human Remains Found In New York Could Be Missing Autistic Teen Avonte Oquendo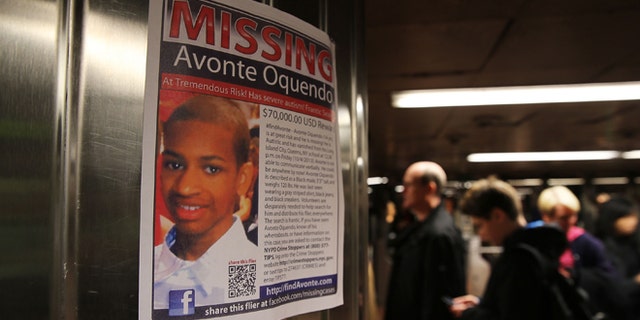 The New York Police Department says human remains have been found near a shoreline in Queens. Investigators are reportedly looking into whether clothing found near the remains belonged to missing autistic boy Avonte Oquendo, according to WNYW FOX 5 in New York.
They say the skeletal remains of an arm and legs were found on the rocks in the area of Powell Cove Boulevard and Endeavor Place. A pair of dark-colored, size 5.5 sneakers were also found.
They match the description of the ones Oquendo, 14, was wearing when he disappeared on Oct. 4 from his school in Long Island City, reported the New York Post. Oquendo, who is is unable to speak, was spotted in security video leaving the Center Boulevard School at about 12:38 p.m more than three months ago.
According to the Post, a 14-year-old girl initially discovered the remains and wrote about the discovery on social media before alerting authorities of the discovery.
Police responded to the College Point area after receiving a 911 call around 7 p.m. Thursday.
The remains will be removed to the Queens County morgue. The medical examiner will determine the cause of death.
Police had said that Oquendo was fascinated with trains. Initially officers searched all subway stations and tunnels and were working with authorities in New Jersey and Long Island in case he got aboard a train leaving the city.
But on Oct. 24, New York City Police Commissioner Ray Kelly said it wasn't likely the teen would be found alive. He later apologized for his comments.
Oquendo's family has refused to give up on the search for him. More than 90 days after his disappearance, the family and loyal volunteers still covered the city with flyers. The Metropolitan Transportation Authority (MTA), which operates New York's subway system, continued making announcements reminding riders to keep an eye out for the autistic boy.
A $95,000 reward was offered for information leading to the 14-year-old's safe return.
The Associated Press and WNYW FOX 5 NEWS contributed to this report.
Follow us on twitter.com/foxnewslatino
Like us at facebook.com/foxnewslatino