Migrants' DNA Could Help Identify Guatemalans Still Missing From Civil War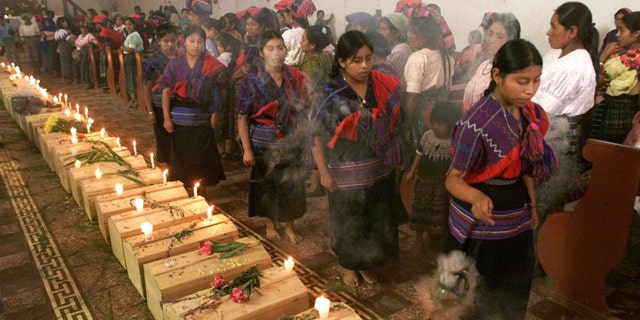 Santa Ana, Calif. – Aracely Garrido returned to her native Guatemala last month to bury one of 13 family members who disappeared during the country's decades-long civil war and was identified years later through DNA from surviving relatives.
The 55-year-old tax preparer now living in a Los Angeles suburb is among a small group of Guatemalan immigrants in the area who have given DNA samples in hopes of finding loved ones who vanished during the fighting from 1960 to 1996. Many more soon will be able to do the same as forensic experts who run a Guatemalan lab that matches victims' remains to the living are expanding their outreach to Guatemalans abroad.
"Being able to find him was at least some relief," Garrido said of her cousin, a construction worker and political activist who she said was seized by authorities along with his teenage son.
She hopes the Forensic Anthropology Foundation will locate the remains of her other missing relatives, many of whom were targeted by the government because they were politically active.
"It is important to clarify the past, to try to find out the truth. That will at least give us a personal sort of peace," she said.
For the last two decades, the foundation has exhumed the remains of victims from mass graves. More recently, it has searched for victims of "forced disappearances" carried out by wartime governments by matching DNA from the remains of unidentified victims found in military installations and cemeteries with samples from living relatives.
More than 7,000 survivors have given DNA samples, including about 20 Guatemalans in Los Angeles when foundation members made a brief trip here last year, said Fredy Peccerelli, the organization's executive director and a Guatemalan who grew up in New York.
The move to expand efforts abroad comes as the Guatemalan conflict takes center stage in a California courtroom. The trial and its intersection with the DNA program underscore that while the conflict that killed an estimated 200,000 people has ended, the effects of the war endure for survivors.
While ex-military personnel have been convicted in recent years in Guatemala of atrocities committed during the war, one of the country's former soldiers is preparing to stand trial in the U.S. on charges of lying on his American citizenship application about his role in one of the era's most violent episodes - a massacre that killed more than 200 people in the village of Dos Erres in 1982.
One of the key witnesses for the U.S. government's case against former special forces commander Jorge Sosa is Oscar Ramirez, a Guatemalan immigrant living in Framingham, Mass., who learned two years ago - through the DNA program - that he had been seized as a toddler and raised by one of Sosa's comrades after nearly his entire family was killed in Dos Erres.
Sosa, 55, was arrested in Canada last year and extradited to the U.S. to face charges of lying on his naturalization application. His trial is scheduled to begin on Tuesday in Riverside, where he lived.
Federal prosecutors say Sosa was one of the commanders of a special patrol that descended upon Dos Erres on Dec. 7, 1982, and oversaw the killings. Men, women and children were bludgeoned with a sledgehammer, their bodies falling into a well. Sosa fired a rifle and threw a grenade into the well to kill any victims who were still alive, according to federal court filings.
While he is not being tried for war crimes, the case is expected to include testimony from former members of the Guatemalan special forces and survivors of the conflict, including Ramirez.
Prosecutors declined to comment on the case.
Sosa's lawyer, Shashi Kewalramani, said the case isn't about what happened in Guatemala but whether his client knew he was accused of a crime when he applied to become an American.
"The only crime he has been charged with in the United States is lying on an application," he said.
Sosa sought asylum in the U.S. after fleeing Guatemala in 1985 and was denied, heading to Canada instead. He later obtained a green card after marrying a U.S. citizen, and applied to naturalize in 2007.
Sosa said he was in another town at the time of the Dos Erres massacre, helping build a school and organize sporting events.
In a letter published by the investigative journalism nonprofit ProPublica, Sosa said he disclosed his membership in the Guatemalan military when he sought asylum in the U.S.
"I desperately need people to know that I have NOT committed a crime nor do I have a criminal mind," Sosa wrote in the letter from a prison in Canada, where he is also a citizen. His brother, Hugo Sosa, verified the account.
If convicted of making a false statement and procuring naturalization unlawfully, Sosa also could face up to 15 years in prison. Federal prosecutors also want to strip Sosa of his American citizenship, something that could pave the way for his return to Guatemala.
A spokesman for Guatemalan prosecutors says they will seek to extradite Sosa to face charges for "crimes against humanity."
While the trial will bring Guatemala's gruesome past to an American courtroom, 50 miles away in Los Angeles, Peccerelli will be continuing his work to bring closure and answers to survivors.
He hopes Ramirez, who will also speak with community members about the DNA program, can help win the trust of Guatemalans still scarred by the war. Since learning his true identity, Ramirez met family he never knew he had - including his father, who was not in Dos Erres the day of the massacre - and obtained political asylum to stay legally in the U.S., something his lawyer, Scott Greathead, said might be a possibility for other survivors.
Based on reporting by the Associated Press.
Follow us on twitter.com/foxnewslatino
Like us at facebook.com/foxnewslatino