Migrant caravan coordinator says demand for Mexico to provide buses has 'failed'
The leading migrant caravan trying to make its way to the United States border is admitting defeat after asking the Mexican government to provide dozens of buses to speed up the group's journey northward.
The setback comes days after caravan leaders asked for "safe and dignified" transport to Mexico City, a checkpoint along the way for a group that has been dwindling in size as members either apply for protected status in Mexico or drop out over fatigue exacerbated by the sweltering weather conditions they have been facing.
"The attempt to travel by bus failed," caravan coordinator Walter Cuello told the Associated Press Wednesday night.
It has been a tumultuous journey so far for the leading caravan, which is now estimated to contain around 4,000 people – down from a peak of more than 7,000.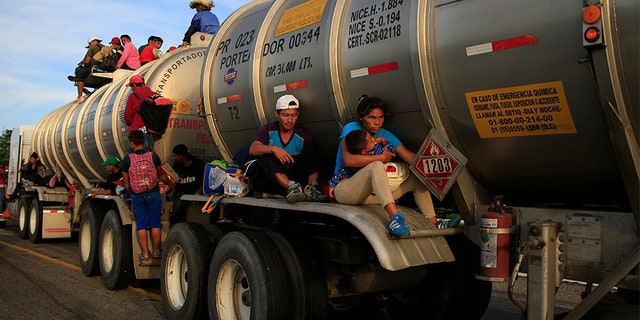 The caravan crossed into Mexico from Guatemala around Oct. 19 and, at the start of this week, appeared to be pushing northward at a faster pace with the help of free rides being offered to them in trucks and other vehicles.
But the arduous nature of the trek – walking day by day to new towns and cities and sleeping on the streets – has been eating away at the migrants' morale from the outset. The request for bus travel for all also indicates an increased sense of urgency amongst the caravan's members to make it to the U.S. border – despite thousands of American troops awaiting them there and a steady drumbeat of warnings from President Trump and U.S. officials to turn around.
"Of the friends that I have been with, all want to go back," Hasiel Isamar Hernandez, a 28-year-old mother of three from Honduras, told the Associated Press days ago. The caravan originated in that country as many are trying to flee its pervasive poverty and violence.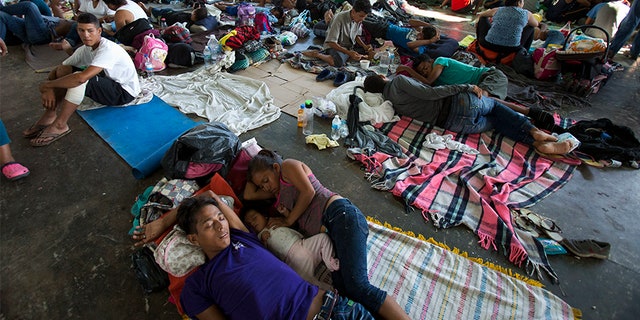 Subscribe to Fox News First -- your briefing on all the stories to start the day
Not all of the migrants that have abandoned the journey though are going back to Honduras. Mexican Interior Secretary Alfonso Navarrete Prida said about 2,300 of them so far have applied to stay in Mexico under a government plan, and hundreds more have accepted assisted repatriation.
Those still with the leading caravan appeared to be confused Thursday as to where it is heading next. It initially hit the road from Juchitan in southern Mexico before sunrise, hoping to cover ground before temperatures in the area pick up, where it is forecasted to be around 90 degrees later this afternoon.
A Fox News crew traveling with the caravan reports that it originally planned to go to Santa Maria Jalapa del Marques, a city about 35 miles west of Juchitan. But shortly after departing, the caravan's leaders changed the route to go north to the town of Matias Romero, in the direction of the coastal city of Veracruz, which lies on the Gulf of Mexico.
The switch suggests that once the caravan gets to Veracruz, it may split in half, with some of the caravan probably heading to a border crossing about 600 miles away in McAllen, Texas. The other half may travel more than double that length to Tijuana, just across the border from San Diego.
"What's going on right now? We are supposed to go that way -- that is a wrong way," Juan Jarquin, one of the migrants, told Fox News' William La Jeunesse. "I can't understand who is running the show."
Another migrant said he was "not sure" whether the caravan would go to Tijuana or McAllen.
Three more caravans are now behind them.
A second, smaller group of 1,000 or so migrants is more than 200 miles back. A third band of about 500 from El Salvador has made it to Guatemala, and a fourth group of about 700 set out from the Salvadoran capital Wednesday.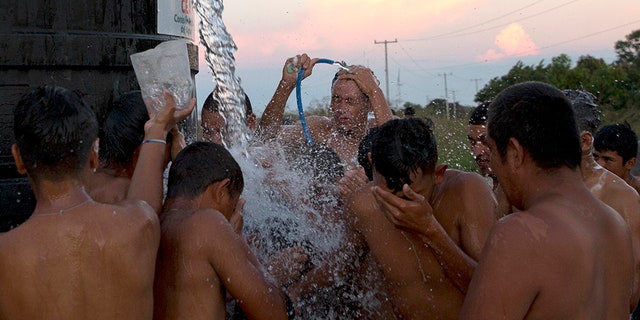 Mexico's government so far has flip-flopped on how they plan to deal with the caravans.
The first two caravans were confronted by Mexican federal police at a bridge crossing along its border with Guatemala. The officers stopped them from walking en masse over the bridge – but didn't prevent them from entering their country entirely. The migrants simply waded across the Suchiate River to get past the police, sometimes in their line of sight.
Stunning images have emerged this week capturing the second caravan moving across the river.
In the first week after the leading caravan got into Mexico, federal police sometimes enforced obscure safety rules, forcing them off paid mini-buses, citing insurance regulations, added the Associated Press. They also stopped some overloaded pickup trucks carrying migrants and forced them to get off.
But in recent days, officials from Mexico's immigrant protection agency have organized rides for straggling women and children as a humanitarian effort. And police have routinely stood by as migrants piled aboard freight trucks.
Also Wednesday, a Guatemalan woman gave birth to the first known caravan baby at a hospital in Juchitan. Mexico's governmental National Human Rights Commission said it had arranged for medical attention for the woman.
The Associated Press contributed to this report.