Mexico's Peña Nieto vows to expedite extradition of 'Chapo' Guzmán to U.S.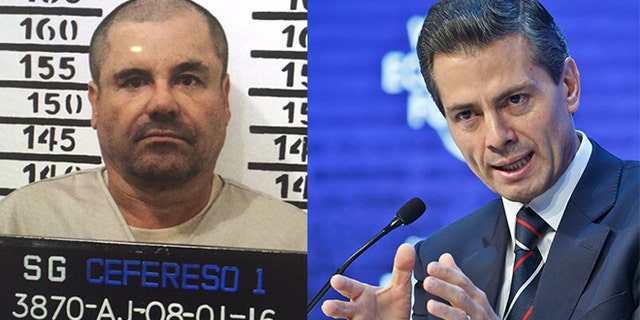 Mexican President Enrique Peña Nieto said Friday he's ordering officials to accelerate the extradition of recaptured drug lord Joaquín "El Chapo" Guzmán to the United States, which originally was expected to take a year or more to complete.
Mexico had balked at extraditing Guzmán when he was captured in 2014, but his escape from a top-security prison last July apparently changed officials' minds.
Peña Nieto said he'd told his attorney general's office to "achieve the extradition of this highly dangerous delinquent as soon as possible." He made the comments during a news conference at the World Economic Forum in Davos, Switzerland.
The decision to accelerate the extradition process comes at a time when the country has put in place extraordinary efforts to prevent what would be Guzmán's third escape from prison.
El Chapo is being shuttled from cell to cell every few hours at Mexico's Altiplano maximum-security prison, from where he escaped in July via a hole in his cell's shower that led to a mile-long tunnel.
The bars of the cells have been reinforced, the prison floors have been strengthened with three-quarter-inch steel rods and a guard watches his door around the clock in case another tunnel entrance materializes suddenly. K-9 dogs even taste his food before he does to make sure it doesn't contain poison.
Expert say that these security precautions are simply "unsustainable" to maintain over the long haul.
Jason Marczak, deputy director of the Adrienne Arsht Latin America Center at the Atlantic Council, told Fox News Latino, "It's definitely extraordinary ... [but] I just can't see 20 years of this."
Mexican Marines captured Guzmán on Jan. 8, six months after his escape from Altiplano. The Sinaloa Cartel chief is wanted on numerous drug trafficking and murder charges in both Mexico and the U.S.
Officials have already said they plan to extradite Guzmán, but have said the process could take a while to push through Mexican courts.
Based on reporting by the Associated Press.