Mexico reveals sticking points in potential negotiations with Trump
Mexican President Enrique Pena Nieto said on Monday his government is prepared to negotiate with President Donald Trump if Mexico's national sovereignty is respected.
TRUMP SIGNS EXECUTIVE ORDER PULLING UNITED STATES FROM TPP TRADE DEAL
Pena Nieto gave a speech detailing what Mexico's baseline negotiating points would be, including economic integration, respect for the rights of migrants and the money they send home.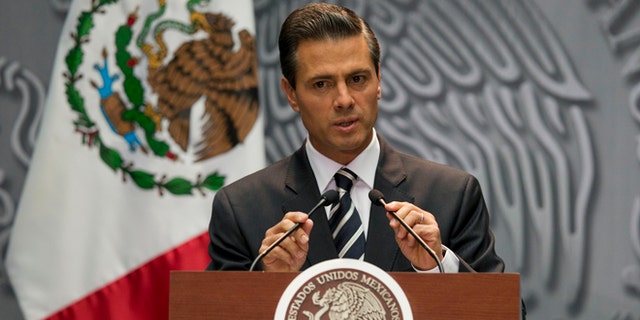 Those remittances amount to about $25 billion annually and have become a major source of foreign revenue for the country and, Pena Nieto said, of support for families on low incomes.
SPICER CHANGES UP FORMAT AT WH BRIEFINGS, MOVES TO HIT RESET WITH MEDIA
Trump had originally suggested that the U.S. might retain some of that money to help pay for a wall between the two countries, a project he says Mexico will pay for but which Mexico opposes.
Pena Nieto sought to chart a middle course.
"We will work for a border that unites us, and not one that divides us," he said. "Neither confrontation nor submission. Dialogue and negotiation are the solution."
The president spoke after holding talks with Canadian Prime Minister Justin Trudeau on the North American Free Trade Agreement (NAFTA) ahead of planned meetings with Trump.
Trump has pledged to renegotiate the three-nation trade agreement and slap tariffs on imports.
Mexico's manufacturing sector has benefited from NAFTA, but Trump claims it has displaced U.S. jobs.