Mexican Hotel Blast Kills 5 Canadians, 2 Mexicans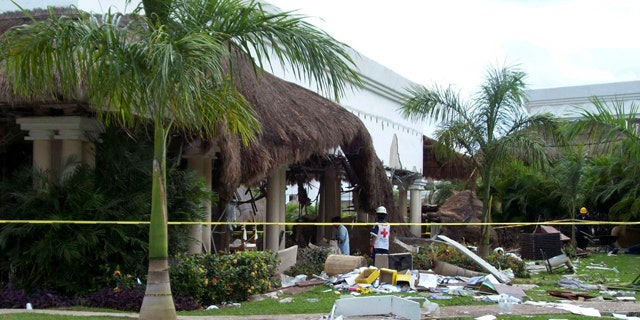 PLAYA DE CARMEN, Mexico – A powerful explosion that killed five Canadian tourists and two Mexican workers at a resort hotel on Mexico's posh Riviera Maya was apparently caused by a buildup of gas from a nearby swamp, authorities said.
The blast Sunday at the 676-room Grand Riviera Princess hotel in Playa del Carmen, south of Cancun, blew out windows and ceiling panels, and hurled paving stones and chunks of metal 50 yards onto the palm-fringed lawn of the compound.
Five Canadian tourists were killed, said Francisco Alor, attorney general of Quintana Roo state, where the resort is located. Canadian officials and family friends identified some of the dead as a British Columbia man who had been married just days earlier, and an Alberta father and his 9-year-old son.
Nine people remained hospitalized Monday, including four Canadians, three Mexican employees of the hotel and two Americans. All were in stable condition, Alor said.
The attorney general described a horrific scene in which the floor of the building was hurled through the ceiling by the force of the explosion, blowing out windows and sending fragments of aluminum window and ceiling panels over a wide area.
A statement from Canada's Foreign Affairs and International Trade department said one Canadian was confirmed killed and that officials had received unconfirmed reports that three Canadian citizens were missing and seven injured.
The resort was hosting a large number of Canadians, including those attending a wedding and a company vacation. One of the guests, James Gaade of St. Catharines, Ontario, estimated that 50 to 70 percent of those staying at the resort at the time of the explosion were Canadians.
"Everyone said their hotel room shook," Gaade said. "The glass at neighboring restaurants all cracked and blew out. The tiki hut that was in the area, that was on fire."
Gaade said he was walking on the beach when he heard a loud explosion and saw smoke coming from the resort's ground-floor premium lounge. "There was a large crater in the area, debris."
The blast happened in one of a dozen or so buildings that make up the sprawling hotel, and left a crater a yard deep.
The area, next to the turquoise waters of the Caribbean, was cordoned off and about 30 Mexican army soldiers stood guard around the hotel.
Initial investigations suggest the gas that exploded beneath the building was apparently not for cooking, but rather a mix of gases from a nearby swamp, Alor said.
"The report suggests an accumulation of gases produced by decomposing organic material in the subsoil, and this gas produced the explosion," he said.
Alor told local news media that investigations were under way to see if the hotel building, which sat on a concrete pad on a swampy area near the beach, had been properly constructed.
"Expert examiners and civil defense personnel will have to determine if the underground space filled with swampy water that remained in this zone when the building was constructed four years ago, could have generated this type of gases," he said.
Officials said no gas lines were located in the area where the blast happened.
Pete Travers, program director of 570 News Radio in Kitchener, Ontario, was at the hotel with a large group of Canadians from nearby Waterloo. He said all members of his group were accounted for.
Travers recalled hearing a huge crash before he went down for breakfast. He stepped into the hallway to find people running from the blast site as word of an explosion rippled through the resort.
"There was quite a lot of chaos," Travers said. He and a few other guests rushed to grab deck chairs from the pool area to use as makeshift stretchers.