Mexican court absolves three soldiers accused of killing suspects in 2014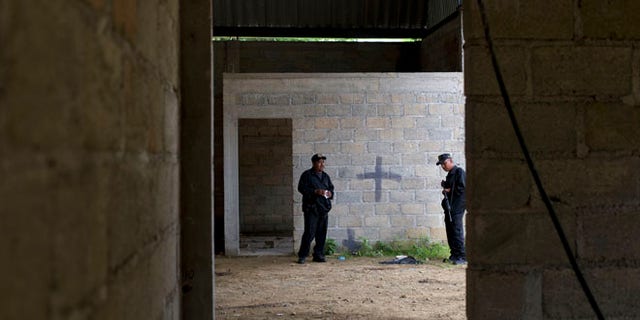 NEWYou can now listen to Fox News articles!
MEXICO CITY (AP) – A Mexican civilian court has freed the last three soldiers accused of homicide in a 2014 incident in which at least a dozen suspects were allegedly executed after they surrendered.
The federal Attorney General's Office emailed a news release shortly after 11 p.m. Friday saying the court absolved all three of charges of homicide, cover-up and alteration of evidence for lack of proof.
Santiago Aguirre, deputy director of the nonprofit Miguel Agustin Pro Juarez Center for Human Rights, which is representing a woman who survived the incident but whose daughter was killed, said authorities cannot appeal the ruling but families of the victims may still do so.
If there is no appeal, the decision could signal an end to a case that rights groups see as emblematic of abuses by some agents in the Mexican security forces.
"This confirms what we had been warning, in the sense that one of the most serious recent cases of human rights violations was on the way to going unpunished," Aguirre said.
The Mexican army reported in June 2014 that 22 presumed criminals had died in a clash with troops at a warehouse in the town of Tlatlaya west of Mexico City. It said only one soldier was wounded.
But questions emerged when The Associated Press found that evidence at the site didn't match the army's account of a clash with drug suspects. There was little sign of a protracted gun battle. Instead, the walls of the warehouse showed a repeated pattern of one or two closely placed bullet holes surrounded by spattered blood, giving the appearance that some of those killed had been standing against a wall and shot at about chest level.
The government's Human Rights Commission investigated and determined that at least 12 and as many as 15 people had been executed at the warehouse. It also said there were attempts by civilian and military authorities to cover up what happened. Prosecutors, however, concluded that only eight were killed after surrendering.
Three women who survived came forward to say that agents of the Mexico State prosecutor's office had tortured them to support the army's version, and state officials later charged several police officers with torture.
Juan Velazquez, an attorney who advised the families of the soldiers who were charged, insisted there was no massacre and said it was all an effort to discredit the military. "That whole story of the execution of Tlatlaya was an invention," he said.
Aguirre said the woman his center is working with, Clara Gomez, was "very upset" in the wake of the ruling.
"She fears she may suffer reprisals from the army or from the very soldiers who were on trial," he said. Gomez is under round-the-clock protection by bodyguards as part of cautionary recommendations by the Inter-American Commission on Human Rights.
Aguirre added that Gomez's daughter was not among the eight victims who prosecutors determined were killed after surrendering, and Gomez therefore does not have the right to appeal. His organization has not been able to contact relatives of those executed to see if they intend to seek an appeal.
Seven soldiers were initially charged in both military and civilian courts. A civilian judge soon threw out charges against four of the soldiers, and the new ruling clears the other three.
In October, a military court acquitted six of the seven soldiers charged with breach of discipline in the case, though the ruling was not made public until March, when it was obtained by a human rights organization. One soldier was convicted of disobeying orders and received a one-year sentence. He has been released.
The government said it began investigating days after the event, but officials gave differing versions following the initial army account of a one-sided shootout.
A government commission for aiding victims of crime announced last year that it would give about $3.3 million to relatives of the suspects slain at the warehouse under a Mexican law requiring compensation for victims of human rights violations. At least one family had received the compensation.
Jose Miguel Vivanco, director of the Americas division at Human Rights Watch, likened the Tlatlaya case to that of 43 students from a teachers' college known as Ayotzinapa who disappeared at the hands of police a few months later in 2014.
"Given the well-documented evidence that soldiers executed civilians in Tlatlaya, the fact that no one is being held accountable for these crimes points to the same kind of gross incompetence or even cover-up by authorities that has been revealed in the Ayotzinapa case."