Medical oxygen scarce in world's poorest regions during coronavirus pandemic
As the coronavirus spreads, soaring demand for oxygen is bringing out a stark global truth: Even the right to breathe depends on money. In much of the world, oxygen is expensive and hard to get — a basic marker of inequality both between and within countries.
CLICK HERE FOR COMPLETE CORONAVIRUS COVERAGE
In wealthy Europe and North America, hospitals treat oxygen as a fundamental need, much like water or electricity. It is delivered in liquid form by tanker truck and piped directly to the beds of coronavirus patients. Running short is all but unthinkable for a resource that literally can be pulled from the air.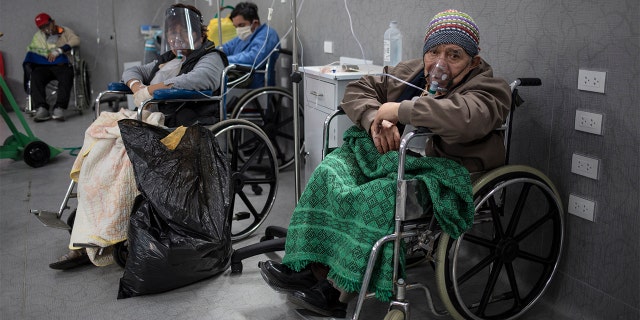 In Spain, as coronavirus deaths climbed, engineers laid 4 miles of tubing in less than a week to give 1,500 beds in an impromptu hospital a direct supply of pure oxygen. Oxygen is also plentiful and brings the most profits in industrial use such as mining, aerospace, electronics and construction.
But in poor countries, from Peru to Bangladesh, it is in lethally short supply.
Medical oxygen comes in liquid and compressed forms.
Liquid oxygen is what wealthy countries largely use. Air is chilled to minus 186 degrees Celsius, so that the oxygen condenses into a liquid in much the same way dew forms in cool night air. It is then pumped into a truck-sized double-thick vacuum flask on wheels and sent to hospitals. There, pumps warm it back into a gas.
Compressed oxygen is pressurized into cylinders about the size of a small adult. Each weighs about  110 pounds.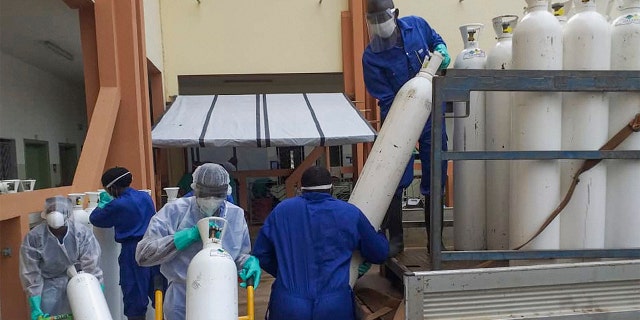 CORONAVIRUS: WHAT YOU NEED TO KNOW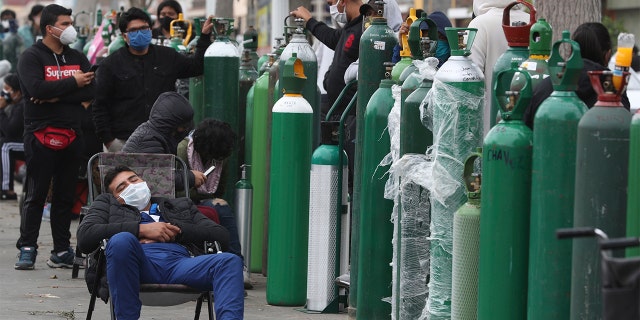 For many severe COVID patients, hypoxia — radically low blood-oxygen levels — is the main danger. Only pure oxygen in large quantities buys the time they need to recover. Oxygen is also used for the treatment of respiratory diseases such as pneumonia, the single largest cause of death in children worldwide.
Yet until 2017, oxygen wasn't even on the list of essential medicines from the World Health Organization. In vast parts of sub-Saharan Africa, Latin America and Asia, that meant there was little money from international donors and little pressure on governments to invest in oxygen knowledge, access or infrastructure.
"Oxygen has been missing on the global agenda for decades," said Leith Greenslade, a global health activist with the coalition Every Breath Counts.
The issue got more attention after British Prime Minister Boris Johnson narrowly survived a bout of coronavirus, crediting his recovery to the National Health Service and "liters and liters of oxygen." But Johnson is a prominent figure in one of the world's richest countries.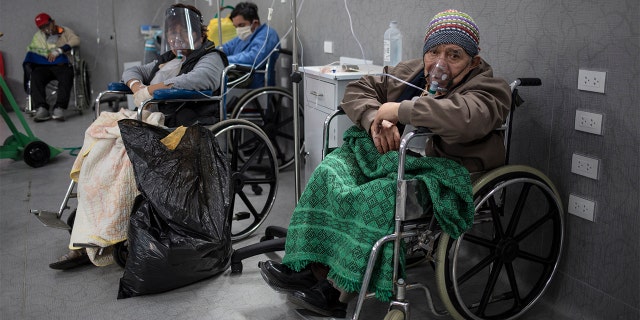 Unlike for vaccines, clean water, contraception or HIV medication, there are no global studies to show how many people lack oxygen treatment — only broad estimates that suggest at least half of the world's population does not have access to it.
In the few places where in-depth studies have been carried out, the situation looks dire. In Congo, only 2 percent of health care facilities have oxygen; in Tanzania, it's 8 percent, and in Bangladesh, 7 percent, according to limited surveys for USAID.  Most countries never even get surveyed.
The Associated Press contributed to this report.