Man shot dead by French police after fatal stabbing spree near Paris
A man killed one person and injured two others outside of Paris Friday during what witnesses are describing as a random stabbing spree, before he was shot dead by police.
The incident occurred in the Hautes-Bruyères State Park in Villejuif, around four miles from the center of the French capital. The motive for the violence and the identity of the attacker have not yet been revealed.
Police union official Yves Lefebvre said officers opened fire repeatedly because they feared the man was wearing an explosive belt and might blow himself up.
The town's mayor identified the deceased victim as a 56-year-old male.
"He was walking with his wife when the attacker approached, he wanted to protect his wife and it was he who took this stab," Franck Le Bohellec told the Le Parisien newspaper.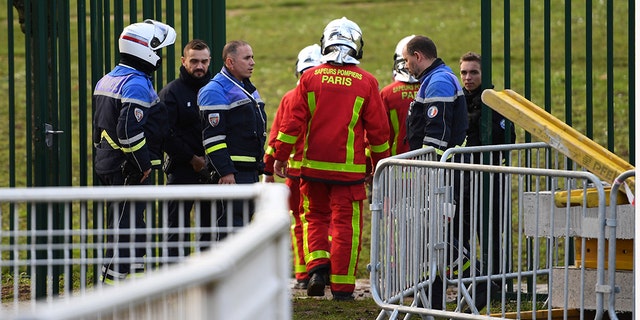 PARIS POLICE ARREST MAN WHO ALLEGEDLY SHOUTED 'ALLAHU AKBAR!' DURING 'JOKER' FILM SCREENING
A witness who spoke to the Associated Press said the stabber appeared to select victims at random.
"We heard screams," said the witness, who gave only his surname, Dia. Police fired round after round in bringing him down, he added.
"We heard a first shot, someone shout `Drop your weapon!'" he said. Then "there were several shots fired."
CLICK HERE FOR THE FOX NEWS APP
Authorities are now advising residents to stay out of the area.
The Associated Press contributed to this report.