London car ramming treated as terror incident, police say; suspect in custody
A car ramming outside Parliament on Tuesday was being treated as a terror incident and a male suspect has been arrested, British authorities said.
The country's counter-terrorism command was leading the investigation. Two people were hospitalized and one person was released, Scotland Yard Assistant Commissioner Neil Basu said. A woman was also being treated for serious, but non-life threatening injuries, he said.
The suspect was described to be in his late 20s and he was arrested on suspicion of terror offenses, Basu said. He was driving a silver Ford Fiesta before collided with a number of cyclists and pedestrians before crashing into the barriers during the morning commute. He was in custody, but wasn't cooperating with police. He wasn't immediately identified.
British Prime Minister Theresa May and London Mayor Sadiq Khan thanked emergency responders for being on the scene quickly.
"My thoughts are with those injured in the incident in Westminster and my thanks to the emergency services for their immediate and courageous response," May said in a tweet.
Khan added: "I'm in close contact with @MetPoliceUK Commissioner about the incident at Parliament Square this morning. Thank you to the first responders who were on the scene so quickly. Enquiries are continuing."
President Trump commented on the incident, saying "Another terrorist attack in London... These animals are crazy and must be dealt with through toughness and strength!
The Westminster Tube Station was closed as police investigated the incident.
Ewalina Ochab, a witness, told the Associated Press that the collision appeared to be deliberate.
"I was walking on the other side [of the road]. I heard some noise and someone screamed. I turned around and I saw a silver car driving very fast close to the railings, maybe even on the pavement," she reportedly said.
London saw a slew of terror incidents in 2017.
The area was the site of a terror attack in March 2017 when Khalid Masood ploughed a car into crowds on Westminster Bridge, killing four people. Masood abandoned his car then stabbed and killed a police officer before being shot in a courtyard outside Parliament.
Months prior to the March attack, Khan came under fire for saying terror attacks were "part and parcel of living in a big city."
A van with three attackers inside drove into pedestrians on London Bridge on June 3, 2017. The attackers got out of the van and stabbed people nearby before being fatally shot by police. At least 11 people, including the three attackers, were killed.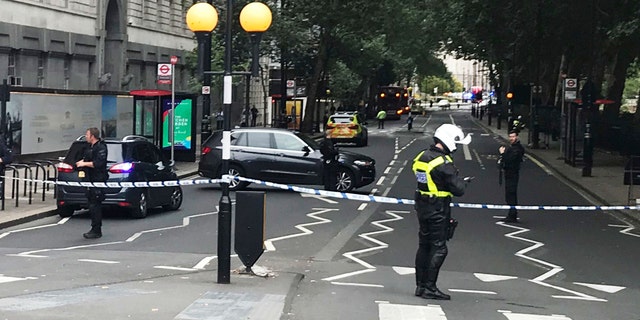 Weeks later, a van drove into people walking near Finsbury Park Mosque in London. One person was dead and 11 others were injured in that incident.
Two police officers were injured in Aug. 25, 2017 when a suspect reached for a sword while being confronted. The man was charged with intent to commit an act of terrorism.
In September of that year, a homemade bomb partially detonated on a train in Parsons Green station. At least 22 people were injured in the incident.
The Associated Press contributed to this report