Libya Frees 3 Dutch Marines After Botched Evacuation Mission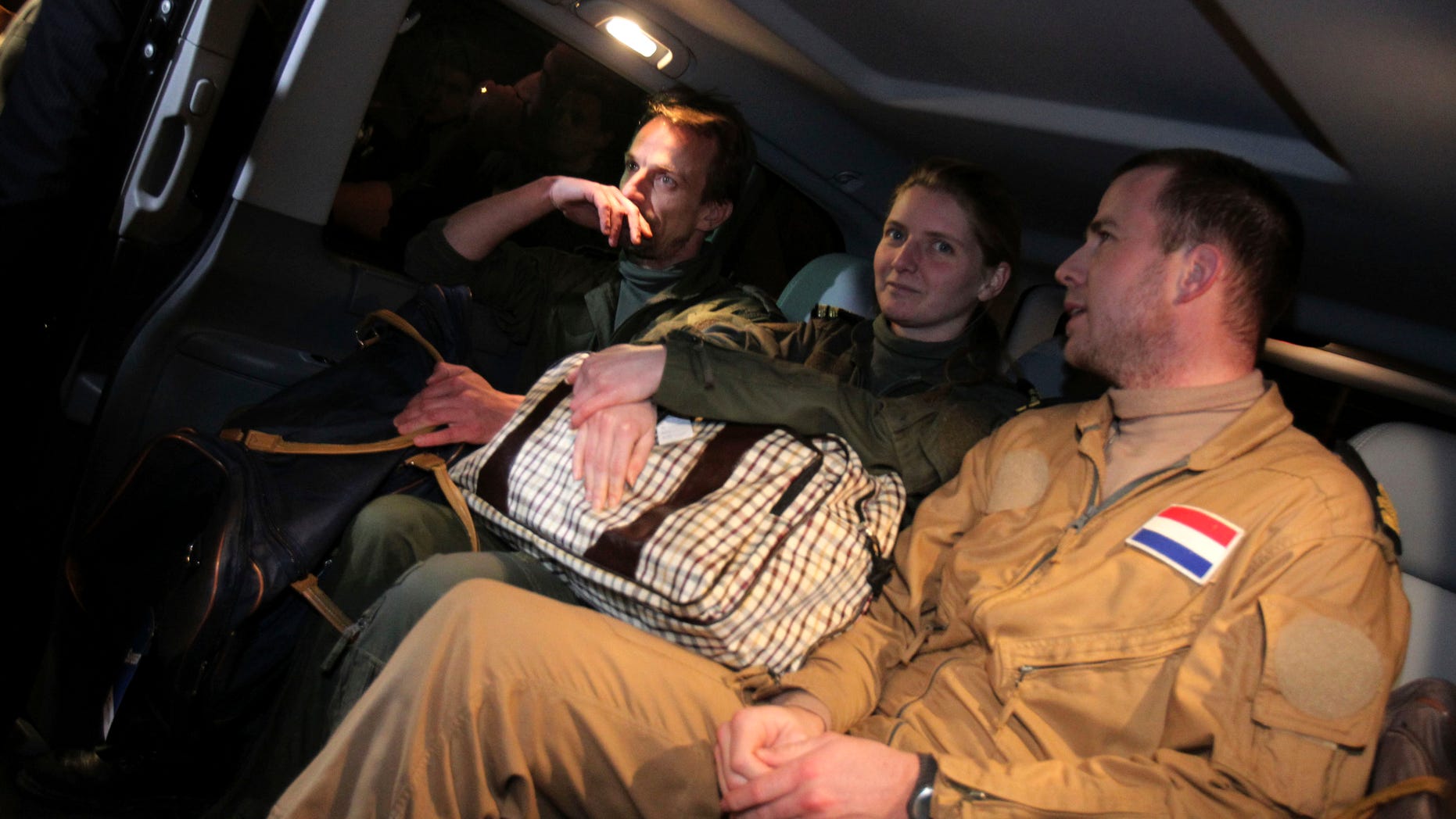 ATHENS -- Three Dutch marines who were captured after a botched evacuation mission in Libya last month arrived in Athens early Friday on a Greek military transport plane. The Netherlands said no concessions were made to Libya for their freedom.
The helicopter crew -- two men and a woman -- arrived at Athens Airport shortly after 6 a.m. after Greek Deputy Foreign Minister Dimitris Dollis flew to Tripoli late Thursday to pick them up. Twelve Greek evacuees from Libya were also on board the plane.
The deal was initially arranged during a meeting between Dollis and Mohamed Tahir Siala, an envoy of Libyan leader Muammar Qaddafi, in Athens on Thursday morning. But "tough negotiations" continued after Dollis arrived in Tripoli late Thursday night, the deputy minister said on the private Mega television channel.
He said the crew's helicopter remained in Libya.
Speaking to reporters in Brussels at a European Union summit, Dutch Prime Minister Mark Rutte said the Netherlands did not pay any ransom or make any other concessions to Libya to secure the three marines' release.
"We are very glad that our three soldiers have been released. Sixteen million Dutch are looking forward to welcoming them back home," he said, adding he was grateful for the help provided by Greece and Malta.
"Did we pay money? No. Did we make concessions from the Netherlands to Libya? No," he said.
Rutte said he would explain the circumstances of the marines' capture and negotiations that led to their release in a letter to parliament.
Defense Minister Hans Hillen said in a statement: "Troops are trained for this sort of situation and the Lynx crew is very experienced. But if training scenarios become reality that is of course very tough."
The marines, apparently in good health, smiled as they walked down the ramp of the plane.
"I am very happy," one of the three, Yvonne Niersman, said after landing and being met at the airport by a Dutch foreign ministry representative.
Dutch Defense Minister Hans Hillen said they would be flown back to the Netherlands soon, although that could be as late as Saturday after they rest and undergo medical checks. He said they were treated "well and correctly" during their captivity.
The Dutch troops and their helicopter were seized Feb. 27 by armed forces loyal to Qaddafi after landing near Sirte, Libya, to help evacuate people from the country as a rebellion against the longtime leader's rule built up momentum.
They had left the Dutch navy ship HMS Tromp, which was anchored off Libya's coast. Qaddafi has warned the U.S. and other Western powers not to intervene in the chaos enveloping his country.
Footage aired by Libyan state TV last week purported to show two of the marines, their Lynx helicopter, weapons and other equipment.
Greece has traditionally had good relations with Libya and with Qaddafi, with whom Prime Minister George Papandreou held talks during a visit there last summer. Papandreou received a phone call from Qaddafii Tuesday night, and he urged the Libyan leader to do all he could to stop further bloodshed and a descent into full-blown civil war.
Athens has also helped in evacuations from the north African country -- including more than 10,000 Chinese nationals -- after fighting between rebels and forces loyal to Qaddafi broke out last month.