Libya Diplomatic Talks to Be Held in Rome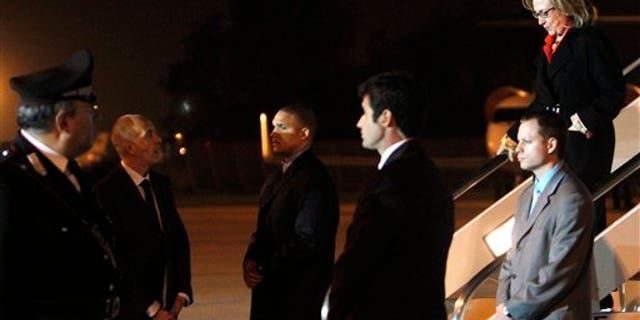 ROME -- Countries involved in NATO's campaign in Libya will seek a way to give financial support to the rebels during a diplomatic meeting held in Rome amid an apparent stalemate in the military operation, Italy says.
The Italian Foreign Ministry said Wednesday that the four-hour meeting will conclude with a general agreement over the principle of financially helping the rebels, but not with a specific pledge.
"This is not a pledging conference. There's not going to be an envelope," said ministry spokesman Maurizio Massari. "What is crucial is that a temporary mechanism is set up, that the principle is agreed upon."
"This will be the major achievement of this meeting," Massari told reporters in Rome.
The Libyan Contact Group meeting brings to the Italian capital U.S. Secretary of State Hillary Clinton, who was due to arrive late Wednesday, the NATO chief, and the leader of Libya's opposition council, Mustafa Abdel-Jalil, who used to be Qaddafi's justice minister.
A Libyan rebel spokesman, Mahmoud Shamam, put the estimated amount of money needed by the rebels in coming months at $1.5 billion. This would only be used for medical and food supplies, running hospitals and electricity, Shamam said in Rome.
As the meeting, the rebels also want to press their cases for better weapons and equipment, Shamam suggested, saying Wednesday in Rome that they are "hungry for basic arms."
The rebel government's spokesman, Abdul Hafid Ghaug, said in Benghazi that no country had sent the arms that the rebel forces say they desperately need. "Up to this point we have not received any commitments (for weapons) from any friendly nation," he said.
British officials said the Rome meeting would also seek to impose new restrictions on arms smuggling and mercenaries operating within Libya, and call for renewed action to cut off Libya's state television service. They hoped the contact group would work on action intended to restrict Qaddafi's exports of crude oil and his ability to import refined oil products.
Its the second meeting of the contact group after a gathering in Doha, Qatar, last month.
This time, the talks come as European powers appear to be losing patience with the stalemate in Libya.
The French Foreign Minister, Alain Juppe, said Wednesday that the military intervention must end "as rapidly as possible," and warned that sending in international ground troops would set the stage for a "quagmire." France has been a major backer of the rebels and of the NATO-led campaign against Qaddafi's military.
Also on Wednesday, Italian lawmakers voted to keep Italy in the NATO-led military operation but called for the Italian government and its allies to work out an endgame for the air strikes within a "certain timeframe." It also demands the government seek an immediate diplomatic solution to the conflict and rules out sending ground troops.
Italian Foreign Minister Franco Frattini said that, while it was impossible to set a date for an end of the operations, the "political goal is for military action to cease as soon as possible." He said the meeting Thursday would look at a political solution for the crisis.
Support for giving money to the Libyan rebels seemed to be growing as the taste for a long air war waned.
"I am definitely in favor of taking all necessary measures to put the maximum pressure on the Qaddafi regime," NATO Secretary-General Anders Fogh Rasmussen said at a news conference in Brussels on Wednesday. "And I do believe it would be protection of civilians in Libya if Qaddafi was forced to step down. It would be helpful if the opposition were to be financed properly."